[wpspoiler name="2015 – Great Falls, Montana" ]
2015 SIA Fall Tour, Great Falls, Montana, October 9 – 10, 2015.
Organizers of the tour wereFred Quivik (editor of IA), Brian Shovers (president of the Klepetko Chapter of the SIA), and Ellen Sievert (Great Falls' historic preservation officer).
The O'Haire Motor Inn in downtown Great Falls was the conference hotel.
About the Area
Montana's second-largest city, Great Falls owes its prominence to a series of falls along the Missouri River that impeded Lewis & Clark's upstream expedition in 1805 and then, once the Great Northern Railroad reached the territory in the 1880s, became the power source on which boosters built their vision for an industrial future. The Fall Tour visited a variety of operations that have developed around that industrial base.
During the twentieth century, the Montana Power Company developed five hydroelectric generating stations along the Great Falls of the Missouri River, one at Black Eagle Falls, right in the City of Great Falls, and four downstream. Participants of the Fall Tour saw two of them: Rainbow, built in 1910, and Ryan, built in 1915. Other tours included the Minuteman missile training simulator at Malmstrom Air Base, an airliner refurbishing company at the Great Falls Airport, and ADF, a fabricator of large steel structures.
Prior to the arrival of railroads to Montana, steamboat navigation on the Missouri River provided Montana Territory's main transportation link to states east of the Mississippi, and Fort Benton, about forty miles downstream of Great Falls, was the head of steamboat navigation. The Saturday itinerary included a trip to Fort Benton to see the historical fort site and the Montana Agricultural Center (an impressive agricultural museum, and lunch on the 1889 Fort Benton bridge, the first bridge in Montana to cross the Missouri and the first bridge of iron or steel to be built in the state.
The early-bird tour on Thursday, October 8, visited Helena, Montana's capital city. The tour included stops at a Boeing facility, a cement plant, and the Archie Bray Foundation, a ceramic arts educational institution that owns the remains of the Western Clay Manufacturing Company, which was featured in Vol. 37 (2011) of IA.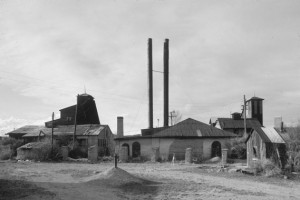 Western Clay Manufacturing Company, located at the Archie Bray Foundation, Helena.  This is one of the sites we'll be seeing on the optional Thursday tour.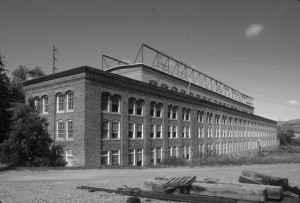 Rainbow Powerhouse: built just below Rainbow Falls in 1910, this hydroelectric generating station was originally built to supply electrical power to the copper mines at Butte and to the Anaconda smelter.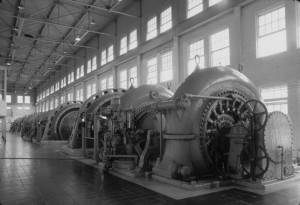 Interior of the Rainbow Powerhouse: each generator in this facility is driven by a pair of horizontal-shaft turbines.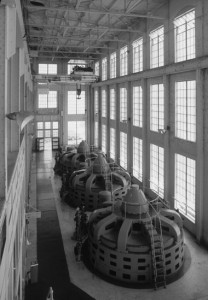 Interior of the Ryan Powerhouse: this powerhouse features vertical-shaft turbine-generator units.
[/wpspoiler] [wpspoiler name="2014 – Southern, Indiana" ]
October 5 (Sunday) to October 8 (Wednesday), 2014
[/wpspoiler] [wpspoiler name="2013 – Rockford, IL" ]
September 26-29, 2013
[/wpspoiler] [wpspoiler name="2012 – Utica, NY including Rome, Mohawk Valley & Adirondacks" ]
October 18-21, 2012
[/wpspoiler] [wpspoiler name="2011 – The Last Green Valley – Quinebaug River in MA and CT "]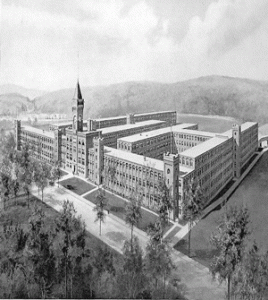 October 13-16, 2011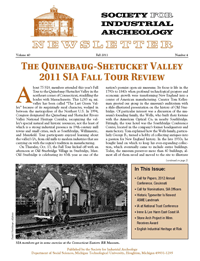 [/wpspoiler] [wpspoiler name="2010 – Vermont" ]
September 16-19, 2010
[/wpspoiler] [wpspoiler name="2009 – Rosendale, NY" ]
October 13-16, 2009
[/wpspoiler] [wpspoiler name="2008 – Chattanooga, TN" ]
October 15-19, 2008
[/wpspoiler] [wpspoiler name="2007 – Ely, NV" ]
Septmeber 27-30, 2007
[/wpspoiler] [wpspoiler name="2006 – Youngstown, Ohio" ]
September 27, October 1, 2006
[/wpspoiler] [wpspoiler name="2005 – Detroit, MI" ]
September 29-October 2, 2005
[/wpspoiler] [wpspoiler name="2004 – Willmington, DE" ]
October 13-17, 2004
[/wpspoiler] [wpspoiler name="2003 – Northeast Montana" ]
September 25-28, 2003
[/wpspoiler] [wpspoiler name="2002 – Lehigh Valley, PA" ]
October 17, 20, 2002
[/wpspoiler] [wpspoiler name="2001 – Syracuse, NY" ]
October 11-14, 2001
[/wpspoiler] [wpspoiler name="2000 – Sarnia, Ontario, Canada – Ontario Oil District, Petrolia)" ]
October 19-22, 2000
[/wpspoiler] [wpspoiler name="1999 – Birmingham, AL" ]
November 3-7, 1999
[/wpspoiler] [wpspoiler name="1998 – Central Connecticut River Valley" ]
September 30 to October 4, 1998
[/wpspoiler] [wpspoiler name="1997 – Alexandria, LA" ]
October 2-5, 1997
[/wpspoiler] [wpspoiler name="1996 – Central Ohio" ]
September 26-29, 1996
[/wpspoiler] [wpspoiler name="1995 – Stellarton, Nova Scotia, Canada" ]
October 4-8, 1995
[/wpspoiler] [wpspoiler name="1994 – Madison, IN" ]
October 20-23, 1994
SIA Newsletter Article on Fall Tour
[/wpspoiler] [wpspoiler name="1993 – Concord, NH" ]
October 1-3, 1993
[/wpspoiler] [wpspoiler name="1992 – South Florida" ]
November 5-9, 1992
[/wpspoiler] [wpspoiler name="1991 – Deadwood, SD" ]
October 9-12, 1991
[/wpspoiler] [wpspoiler name="1990 – Williamsport, PA" ]
October 25-28, 1990
[/wpspoiler] [wpspoiler name="1989 – Butte, MT" ]
October 12-15, 1989
[/wpspoiler] [wpspoiler name="1988 – Easton, PA" ]
September 15-18, 1988
[/wpspoiler] [wpspoiler name="1987 – Pine Barrens, NJ" ]
September 10-13, 1987
[/wpspoiler] [wpspoiler name="1986 – New England Coast" ]
October 2-5, 1986
[/wpspoiler] [wpspoiler name="1985 – Birmingham, AL" ]
October 12-14, 1985
[/wpspoiler] [wpspoiler name="1984 – Niagara Falls" ]
October 12-14, 1984
PDF of SIA Newsletter which includes report on the Tour
[/wpspoiler] [wpspoiler name="1983 – Colorado" ]
October 13-15, 1983
[/wpspoiler] [wpspoiler name="1982 – Maine Coast" ]
September 23-25, 1982
[/wpspoiler] [wpspoiler name="1981 – Michigan Upper Peninsula" ]
October 8-11, 1981
[/wpspoiler] [wpspoiler name="1980 – Winston-Salem, NC" ]
Septermber 26-28, 1980
[/wpspoiler] [wpspoiler name="1979 – Pennsylvania Anthracite Region" ]
October 13-15, 1979
[/wpspoiler] [wpspoiler name="1978 – Rhode Island" ]
October 29-30, 1978
[/wpspoiler] [wpspoiler name="1977 – Martha's Vineyard, MA" ]
1977
[/wpspoiler] [wpspoiler name="1976 – Passaic Valley, NJ" ]
October 23-24, 1976
[/wpspoiler] [wpspoiler name="1975 – Toronto & Hamilton, Ontario, Canada" ]
September 27-28, 1975
[/wpspoiler] [wpspoiler name="1974 – Lehigh Valley, PA" ]
1974
[/wpspoiler] [wpspoiler name="1973 – Rideau Canal, Ottawa, Canada" ]
September 22-23, 1973
[/wpspoiler] [wpspoiler name="1972 – Quinebaug & Blackstone Valleys, MA & RI" ]
October 1972
[/wpspoiler]