EDWARD S. RUTSCH
1936-2003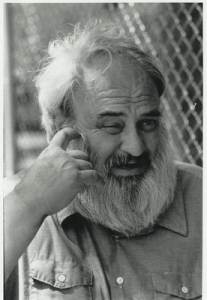 ---
ED'S FRIEND, HERB GITHENS,
WROTE THE FOLLOWING OBITUARY
Edward S. Rutsch the renowned industrial archeologist died Sunday at the age of 66. His many achievements included the identification of the Great Falls National Landmark Historic Industrial District in Paterson, numerous studies of the Morristown National Historic Site and the excavation of the Negro Burial Ground in New York City.
He was born in Teaneck, NJ on October 6, 1936 to Emil and Helen (Rudin) Rutsch. He was predeceased by his wife, Mary Jane in 1989.
Survivors include his companion, Patricia Condell and two brothers, Donald and William.
Rutsch was raised in Teaneck where he was an All State wrestler and football player. He went on to George Washington University where he was an All American in his senior year. He obtained his Masters degree in Anthropology at New York University and continued his studies in American Civilization at the University of Pennsylvania. His early training in education and museology influenced his subsequent role as a professional archeologist and cultural resource manager and interpreter. He was proficient in both aboriginal and historic cultural periods as evidenced in the wide range of subjects covered in his books, articles and professional reports. He used his expertise in industrial archeology to emphasize public education and the historic preservation of our nation's industrial heritage.
Mr. Rutsch started as a secondary school teacher. While pursuing his graduate degree he worked as a research curator for the Museum of the American Indian in New York. He was a Professor of Anthropology at Fairleigh Dickinson University in Madison, NJ. He founded Historic Conservation & Interpretation where he served as president and primary investigator for three decades. He was a founding member of the Society for Industrial Archeology, serving on the board for many years as well as its President. He contributed articles and book reviews for the SIA Journal and received the prestigious General Tools Award from the Society.
He leaves behind a legacy of many works involving industrial sites in New Jersey. His seminal work in Paterson identifying the Great Falls Industrial District eventually led to President Gerald Ford declaring it a National Landmark. His interest in the iron industry generated a greater understanding of the Mount Hope and Long Pond sites. He contributed to the development of many of New Jersey's parks such as Liberty State Park where he identified numerous cultural resources, recorded them and even led to the production of a film, Pier 19, that documented one of the final days of the railroad navy yard. His studies went beyond New Jersey's borders. He conducted historical and archeological surveys at the Central Georgia Railroad Repair Yard in Savannah. He was a consulting industrial archeologist to the Conservation Trust of Puerto Rico for the La Esperanza Sugar Hacienda. He performed Salvage Archeology Operations at Cinnamon Bay, St. John, US Virgin Islands. Recently, he extended his knowledge of industrial sites, gratis to friends in Falmouth, Jamaica.
Mr. Rutsch was a superb archeologist, a scholarly industrial historian, devoted environmentalist, gifted teacher and a proud New Jerseyman.
Reprinted from the SIA Roebling Chapter Newsletter, Vol. 12, No. 2, August 2003
---