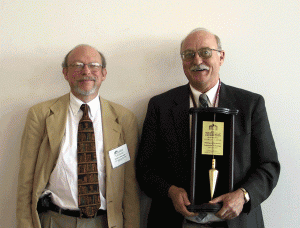 2004 General Tools Award Winner – Charlie Hyde (right) with Gerald Weinstein (left)
Photograph by Perry Green
General Tools Award Committee chair Betsy Fahlman approached the podium and presented this year's award.
"I am Betsy Fahlman, and I have chaired this year's General Tools Award Committee, also known as "the plumb bob award." For those of you who don't know me, I teach art history at Arizona State University, and because of my interest in art and industry, have been involved with the SIA for more than two decades. I am the one who writes those occasional essays for the newsletter on "IA in Art," which annoy those who do not like contemporary art, and pleases those who like dead artists. I would like to thank my fellow committee members Pat Malone of Brown University (who won the award in 1996) and Tom Leary of Youngstown State University.
"Established in 1992, the General Tools Award for Distinguished Service to Industrial Archeology recognizes individuals who have givens sustained, distinguished service to the cause of industrial archeology. The award is made possible through the generosity of Gerry Weinstein, chairman of the board of the General Tools Manufacturing of New York City, and the Abraham and Lillian Rosenberg Foundation (the Rosenbergs founded General Hardware, the predecessor to General tools). The award consists of a citation, a dandy kinetic sculpture, and a sum of money.
"To be selected, the recipient must have given noteworthy, beyond-the-call-of-duty service, over an extended period of time to the cause we love so much. While the type of service is unspecified, it must be for other than academic publication (though academic publication is not forbidden of winners). And the award is given only to living individuals (that way we get to meet them!). Previous winners are among the SIA pantheon of saints, and have included Emory Kemp (the first in 1993), Robert Vogel, the late Ed Rutsch, Margot Gayle, Helena Wright, Vance Packard (our current president), Eric Delony, Robert Merriam, and Charles Parrott. Last year the winner was Alex Barbour.
"How much longer can I chatter before I reveal the identity of the awardee? This year's winner is someone well known to all of us, and has been a SIA fanatic since the earliest years of the organization. He (the gender is revealed, narrowing down the possibilities to only 95% of our membership), is practically historic himself, and has long been a vital champion of the sort of IA stuff we all hold near and dear. He has been deeply involved in historic preservation and documentation, worked on copper mining, the iron industry, lighthouses, the Chrysler Corporation—to name a few of his big areas—and he is widely published in the fields of IA and technological history. His dual role as a public and an academic historian makes him a remarkable individual (academics do not always venture out into the real world). And he is one of the few to have visited Arizona and experienced rain and snow during the same trip! It gives me great pleasure to present the 2004 General Tools Award to Charlie Hyde, who has taught for thirty years at Wayne State University in Detroit.
Mr Hyde rose and came to the podium amid much applause. After posing for a photograph, he remarked that for the first time in his life he had nothing to say. He was shocked, dumbfounded and elated. He thanked the committee and the society sincerely and returned to his seat. President Packard commented that the committee endeavors to make sure that General Tools Award recipients have no idea the award is coming.