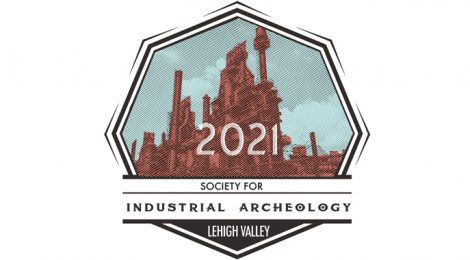 ---
SIA 49th Annual Conference in Pennsylvania's Lehigh Valley 
August 23-27, 2021
---
CONFERENCE HOME  •  Presentations Schedule  •  SIA Covid Statement
Tours & Events  •  Registration Information  •  Hotel & Travel
---
PLEASE NOTE: Wednesday tours for the 49th Annual Conference are at capacity. Registration rates have been modified to account for this, and you will have the opportunity to sign up for Wednesday Tour waiting lists during registration.
Also please note that we have filled our room block at the conference hotel, the Hotel Bethlehem. Rooms are available in other hotels near the conference site.
The Anthracite Heritage Museum, National Museum of Industrial History (NMIH), and the National Canal Museum, a program of the Delaware & Lehigh National Heritage Corridor, invite you to join the Society for Industrial Archeology in Bethlehem, Pennsylvania, which has been rescheduled for August 24-27, 2021.  We welcome everyone to join together to celebrate the Lehigh Valley's unique legacy as the cradle of American industrialization.
Bode Morin, the other members of the Lehigh Planning Committee, and conference sponsor, the Industrial Archives & Library welcome you to join other newcomers and first timers, former members, as well as long time SIA members in this one- to three- to five-day event. The Historic Hotel Bethlehem serves as the conference headquarters.
The conference celebrates the following industries and their remains and legacies: anthracite coal; iron and steel; slate and cement; transportation networks of canals, railroads, and bridges; a rich musical tradition; and the impact of labor and unions. All grew big in eastern Pennsylvania. Conference attendees will have the opportunity to visit and hear about these legacies through tours, engaging paper sessions, and with our special blend of group interactions. Be sure to check out the 49th annual SIA Conference in Bethlehem in August 2021!
This embarrassment of riches can be aptly summed up by Martha Capwell Fox, National Canal Museum Archivist and the keynote speaker at our opening reception:
Pennsylvania was the driving force of American industry in the nineteenth century. The Commonwealth's industries employed more people and produced more goods with more dollar value than any other state. Pennsylvania was the center of iron production, surpassing by the 1880s even the industrial might of Britain and Germany. And Pennsylvania was the nation's powerhouse, supplying 95 percent of the hot-burning, high-energy anthracite coal that ignited the America's industrial revolution. The revolution began in the five counties: Bucks, Northampton, Lehigh, Carbon, and Luzerne … the place where America was built, the cradle of the American Industrial Revolution.

— Martha Capwell Fox, Geography, Geology, and Genius (2019).
---
SCHEDULE AT A GLANCE
MONDAY, August 23, 2021
Non-conference rail excursion sponsored by National Museum of Industrial History*
SIA Board of Directors Meeting
TUESDAY, August 24, 2021
Pre-conference tours*
Welcome Reception for New Members
Evening Reception at Historic Hotel Bethlehem
WEDNESDAY, August 25, 2021
All-Day Process Tours
Dinner on your own
SIA Industrial Film Festival??
THURSDAY, August 26, 2021
Full day of research presentations & exhibits
Annual Business Meeting & Luncheon
SIA Banquet at the National Museum of Industrial History*
FRIDAY, August 27, 2021
*Additional fees apply
---
SIA COVID STATEMENT
49th Annual Conference registrants must read the following statement and agree to abide by the terms and conditions stated therein in order to participate in the conference.
The SIA is committed to making the Lehigh Valley Conference a safe experience and to the protection of our members, volunteers, sites, vendors, and hotel, restaurant, and bus workers. Please be patient and understanding as COVID has been a constant discussion point throughout the postponements and rescheduling of our conference. The COVID-19 pandemic is not over, and the SIA will proceed in the best interest with full due diligence for the protection of public health.
We are aware that, while COVID restrictions are being loosened in many places, virus variants are causing new concerns. We will monitor the situation and may require masks or other public health measures as we deem necessary. Observance of these requirements are a condition of participation in the tours and conference. A failure to comply will result in your removal from the tours and conference.
Over the past 18 months, planners from the local committee have worked with industries, heritage sites, and community partners to assemble tours and site visits.  We have rescheduled the Lehigh Valley conference twice and while many of our original sites have agreed to work with us again, some have not due to COVID.  While the current tour itineraries are well set, sites may still change their minds as conditions change.
The Board approved a vaccination requirement for registration and in-person attendance at the conference. Specifically, registration will require proof of full COVID-19 vaccination as defined by the Centers for Disease Control:
"People are considered fully vaccinated:
2 weeks after their second dose in a 2-dose series, such as the Pfizer or Moderna vaccines, or
2 weeks after a single-dose vaccine, such as Johnson & Johnson's Johnson vaccine
If you do not meet these requirements, regardless of your age, you are NOT fully vaccinated."
There will be no exceptions to this requirement. Conference participants must email an image of their US DHHS/CDC COVID-19 Vaccination Record Card to SIA Headquarters (sia@siahq.org) to finalize their registration for the conference (please put COVID Proof of Vaccination and your name in the subject line). Beyond our own commitment to protect the health of our members, this is also a requirement to visit some of the tour sites Bode Morin and the local committee have planned.
COVID terms and conditions:
The SIA wants all members to enjoy the Lehigh Valley and have a safe and rewarding experience.
ALL attendees must be vaccinated and show proof of vaccination prior to attending. We will be following CDC and Pennsylvania Department of Health guidelines for fully vaccinated people at all events and programs.
Bus drivers will be vaccinated to ensure a fully vaccinated bus. In the event of a last-minute driver change, that driver will provide proof of a negative COVID test within 72 hours and will be masked the entire trip.
IF we can ensure a fully vaccinated bus, then tour attendees may follow CDC and Pennsylvania Department of Health guidelines for fully vaccinated people at public gatherings.
In the event of a potential threat to public and attendee safety, masking MAY be required on buses.
Failure to comply with SIA tour rules, including masking, may result in immediate expulsion from the tour and conference. Updated "road rules" will be provided by the time of the conference.
In the event an attendee develops symptoms, they will immediately remove themselves from conference participation and self-isolate. They will need to get a rapid COVID test and a negative result to rejoin the conference. Locations for a test will be provided at registration. If a person is on a bus tour, they will need to make arrangements through a taxi or rideshare service to return to the hotel and arrange a test.
Any positive test results must be reported to the designated SIA Covid Safety Coordinator.
CDC guidelines state that vaccinated individuals who are exposed to COVID do not need to isolate or get tested. However, we will ask for every registrant's cell phone number and use it to notify attendees of any COVID event.
Conference Hotel
Historic Hotel Bethlehem
437 Main St, Bethlehem, PA 18018
The Historic Hotel Bethlehem is a historic hotel in Main Street Bethlehem PA affiliated with the National Trust's Historic Hotels of America. The hotel is located directly adjacent to the Moravian National Historic District industrial quarter.