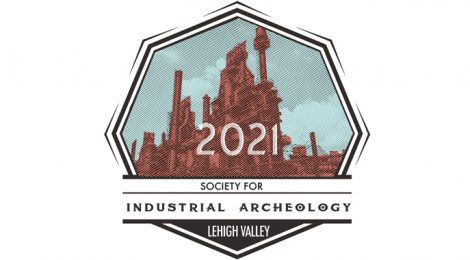 ---
SIA 49th Annual Conference Postponed to August 24-27, 2021
---
The SIA Board has further postponed the Lehigh Valley conference due to concerns over the coronavirus. The event has now been rescheduled for August 24-27, 2021 with any in-person activities contingent on safe conditions.
The Board appreciates the support we have received, and hopes that all members remain safe and healthy during these uncertain times.
---
Pennsylvania's Lehigh Valley region will be the location for the Society for Industrial Archeology's 49th Annual Conference, now scheduled for August 24-27, 2021.
The Anthracite Heritage Museum, National Museum of Industrial History (NMIH), Industrial Archives & Library and the National Canal Museum, a program of the Delaware & Lehigh National Heritage Corridor, invite you to join the Society for Industrial Archeology in Bethlehem, PA in 2021. We welcome everyone to join together to celebrate the Lehigh Valley's unique legacy as the cradle of American industrialization.
Local chair Bode Morin and the other members of the Lehigh Planning Committee welcome all new, former, and longtime SIA members in this one- to three- to five-day event. The Historic Hotel Bethlehem serves as the conference headquarters.
The conference celebrates the following industries and their remains and legacies: anthracite coal; iron and steel; slate and cement; transportation networks of canals, rail roads, and bridges; a rich musical tradition; and the impact of labor and unions. All grew big in eastern Pennsylvania. Conference attendees will have the opportunity to visit and hear about these legacies by touring, engaging paper sessions, and with our special blend of group interactions. Be sure to check out the 49th annual SIA Conference in Bethlehem!
This embarrassment of riches can be aptly summed up by Martha Capwell Fox, a member of our local planning committee:
"Pennsylvania was the driving force of American industry in the nineteenth century. The Commonwealth's industries employed more people and produced more goods with more dollar value than any other state. Pennsyl- vania was the center of iron production, surpassing by the 1880s even the industrial might of Britain and Germany. And Pennsylvania was the nation's powerhouse, supplying 95 percent of the hot-burning, high-energy anthracite coal that ignited the America's industrial revolution. The revolution began in the five counties: Bucks, Northampton, Lehigh, Carbon, and Luzerne … the place where America was built, the cradle of the American Industrial Revolution."
—Martha Capwell Fox, Geography, Geology, and Genius (2019)
---
SIA LEHIGH VALLEY 2021 CONFERENCE PARTNERS

Conference Hotel
Historic Hotel Bethlehem
437 Main St, Bethlehem, PA 18018
The Historic Hotel Bethlehem is a historic hotel in Main Street Bethlehem PA affiliated with the National Trust's Historic Hotels of America. The hotel is located directly adjacent to the Moravian National Historic District industrial quarter.