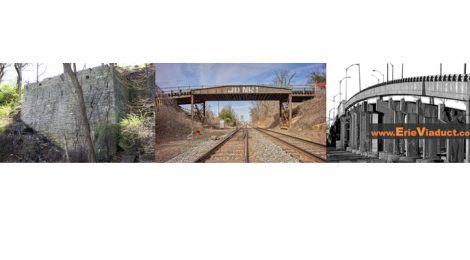 Join the SIA for an online presentation session exploring social justice implications of engineering and infrastructure Thursday, June 18 at 2 p.m. Eastern:
Christopher Marston – "IA on the Trail of Tears: Rediscovering the Nashville Toll Bridge"
David Rotenstein – "Race, Space, and Infrastructure: The Talbot Avenue Bridge"
Lisa Austin, Adam Trott, Janice Cole & Michael Keys – "Erie Viaduct (1938-2019)"
---
"IA Online" is a series of short talks on IA topics held via Zoom
All current SIA members with an email address on file will receive an invitation to join these presentation sessions on Zoom.
If you are not a current member of the SIA, but would like to attend an upcoming session, contact SIA headquarters (sia@siahq.org) for the link. Each session is open to the first 100 participants who join the session.
Talks are 10-15 minutes each, with 5 minutes of Q&A for each presenter. The end of the session is reserved for additional questions and discussion.
Please note the sessions will be recorded and made available on our YouTube channel after the presentations.
---
CAPTIONS FOR IMAGES ABOVE:
TOP: The remaining abutment of the Nashville Toll Bridge, Nashville, Tennessee.
MIDDLE: The Talbot Avenue Bridge spanning the B&O Railroad line in suburban Washington, D.C.
BOTTOM: The McBride Street Viaduct, a former pedestrian bridge in Erie, Pennsylvania.
---
Previous IA Online presentations:
Matthew S. Daley – "Quaint Furniture of Character: The Stickley Brothers Furniture Company of Grand Rapids, Michigan"
Daniel Schneider – "Pictures of Fragments: Interpreting the Remains of the Calumet & Hecla Mill Complex, Lake Linden, Michigan"
David Simmons – "Bridging 120 Miles: The Sherman Family of Bridge Builders from Ohio"