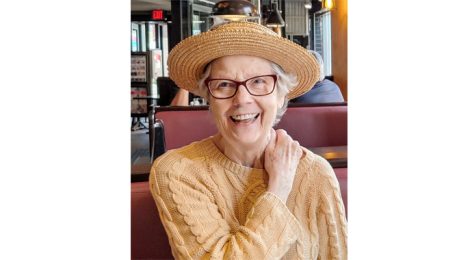 LOUISE TROTTIER
Louise Trottier is the recipient of the 2022 Society for Industrial Archeology General Tools Award. The General Tools Award is the highest honor that the SIA can bestow, recognizing individuals who have given sustained, distinguished service to the cause of industrial archeology.
Louise has been a long-time promoter of industrial archeology in Canada, especially through her work as Curator of Energy and Natural Resources at the Canada Science and Technology Museum in Ottawa, where from 1988 to 2008 she worked on exhibitions, publications, and added enormously to the museum's collections from the mining, hydro, and forest industries.
Louise was introduced to industrial technologies early in life. She was born in Quebec to the industrial family who owned the Trottier Foundry. After earning an undergraduate degree in history at Laval University, Quebec City, in 1970, she received an MA in history at the University of Toronto the following year and followed that with a second master's in museum studies from the National School of Conservation at the National Institute of Anthropology and History in Mexico City.
Louise's first project out of grad school was at the University of Man (now Canada Museum of History) in Ottawa, conducting historical research over two years to help interpret artifacts from the mining and forestry industries. She then worked for three years as a historian with Parks Canada, where she researched the technical and social evolution of St. Maurice Iron Works, a site dating back to 1730. Her work there began just two years after the site became a National Historical Site, and it was also the first Parks Canada site to be designated an Industrial Heritage Site. During this period, she also worked as a professor at the University of Quebec in Montreal, teaching courses in history of architecture, cultural properties conservation and interpretation, industrial heritage, science and technology collections, and the art of the Canadian First Nations, as well as serving as a consultant on cultural and industrial heritage projects for the Province of Quebec.
After joining the Canada Science and Technology Museum in 1988 as Curator of Energy and Natural Resources, Louise made artifact acquisition a primary objective. The more than 4,000 artifacts she eventually acquired range from a miner's lipstick to a nuclear fusion reactor—the world's only fusion reactor known to exist in a public collection. She also added more than 350 pieces of trade literature to the museum's library. Inclusivity in the work of the museum was another major theme, for which she worked tirelessly. As a French Canadian, she sought balanced representation of technologies from both French and English Canada. While overseeing the development of an exhibition called Love, Leisure, and Laundry, she made sure the voices of First Nation Canadians and Chinese Canadians were included. Trottier's exhibition, Beyond the Trees, interpreted Canada's forestry industry from numerous perspectives. From her position at the national museum, she also helped provincial museums work with Canada's indigenous communities when developing exhibitions.
While at the Canada Science and Technology Museum, Louise continued the career as an educator she had begun at the University of Quebec in the 1980s, giving guest lectures at various universities. In the late 1990s and early 2000s, she engaged West Virginia University's industrial archaeology program to help the University of Western Ontario develop a training program in industrial archeology for employees of Parks Canada and museum professionals across Canada.
Many of Trottier's colleagues credit her with bringing industrial archeology to Canada. She co-founded the Canadian Chapter of The International Committee for the Conservation of Industrial Heritage (TICCIH) and was the main organizer of the 1994 TICCIH Congress in Montreal. She also served as scientific program advisor and editor of From Industry to Industrial Heritage, the proceedings of the Congress. She also co-founded the Quebec Association for Industrial Heritage in 1988.
While at the Canada Science and Technology Museum, Louise helped to organize the SIA Annual Meetings in Quebec City and Montreal and served a term on the SIA Board of Directors. Her term on the board was long before virtual meetings, and most meetings were held in Washington, DC. Occasionally board members, including Louise, arranged to host a meeting at their facilities. Being a proud Canadian, she wanted the SIA Board to be able to experience Ottawa in the middle of winter, touting the joys of ice-skating along the Rideau Canal, which some Board members took her up on. She also arranged an excellent behind-the-scenes tour of her Museum for the SIA Board. As program chair for the SIA's Annual Meeting in Montreal, Louise arranged for it to be a bilingual conference, encouraging researchers to make their presentations in French, and providing simultaneous translations in both French and English.
At the Canada Science and Technology Museum, Trottier supervised the research, writing, and publication of ten projects, called Historical Assessments, on various facets of Canadian industry, ranging from coal mining to post-1960s hydroelectric megaprojects. Among them was "The History of the Petroleum Industry in Canada to 1947," by SIA Past President, Chris Andreae.
In addition to her promotion of industrial archeology in Canada and her work with museums and historic sites, Trottier has an impressive publication record as a scholar. Her publications include multiple peer-reviewed articles and two books on Canadian industrial heritage. In fact, Louise wrote the first book on Quebec's industrial heritage. Her exceptional knowledge of the subject prompted the Quebec government to commission her to produce a study that resulted in the monograph Le patrimonie industriel au Québec, complete with regional overviews and explorations of their development. Her presentations on Canadian street lighting, coal mining in Canada, and representations of energy in Canada's industrial heritage were highlights of the SIA conferences at Savannah, Sacramento, and Baltimore. In addition, she wrote sections on industrial archaeology in the 1992 Blackwell Encyclopedia of Industrial Archaeology, edited by Barrie Trinder and published in Oxford.
Taking a curatorial position at the national science and technology museum made Trottier a pioneer. She was the only female in that position, and she remained alone in that regard for many years. There are now numerous women working in the field of industrial heritage in Canada, who all credit Louise with "creating an inclusive and supportive environment in which [they] can flourish."
Canada's Governor General appointed Louise Trottier to the Order of Canada in December 2021. She was nominated by a group of women who work in scientific and technological literacy and in Canadian technological heritage. In their nomination, they affirmed that, "Louise—a former Curator, Energy and Natural Resources at the Canada Science and Technology Museum Corporation—has been a friend, a mentor, a teacher, a relentless supporter of women in a male-dominated workplace, and a role model that moulded two generations of Canadian historians of technology and museum professionals." Furthermore, "she patiently explained workings of difficult technologies and their roles in the transformation of Canadian society to less experienced employees of the museum. She stood up for younger scholars, when the new socio-technical methodologies that [they] brought to the workplace were questioned or dismissed. She would forgo her own travel and pay for the younger staff to attend international conferences and enjoy professional development. For those of us directly mentored by Louise, she became a role model, which guides the ways in which we support another generation of science and technology heritage professionals in Canada. Her impact will have a lasting effect on the work environment in the field."
Throughout Louise Trottier's remarkably diverse professional career, she has demonstrated command of numerous aspects of industrial heritage and has given sustained, distinguished service to the cause of industrial archeology, interpreting the material culture of Canadian industry to broader publics and helping to bring new generations of practitioners into our field.
— Adapted from the award citation David Simmons delivered at the SIA's 2022 Annual Business Meeting, which was held on August 26, 2021