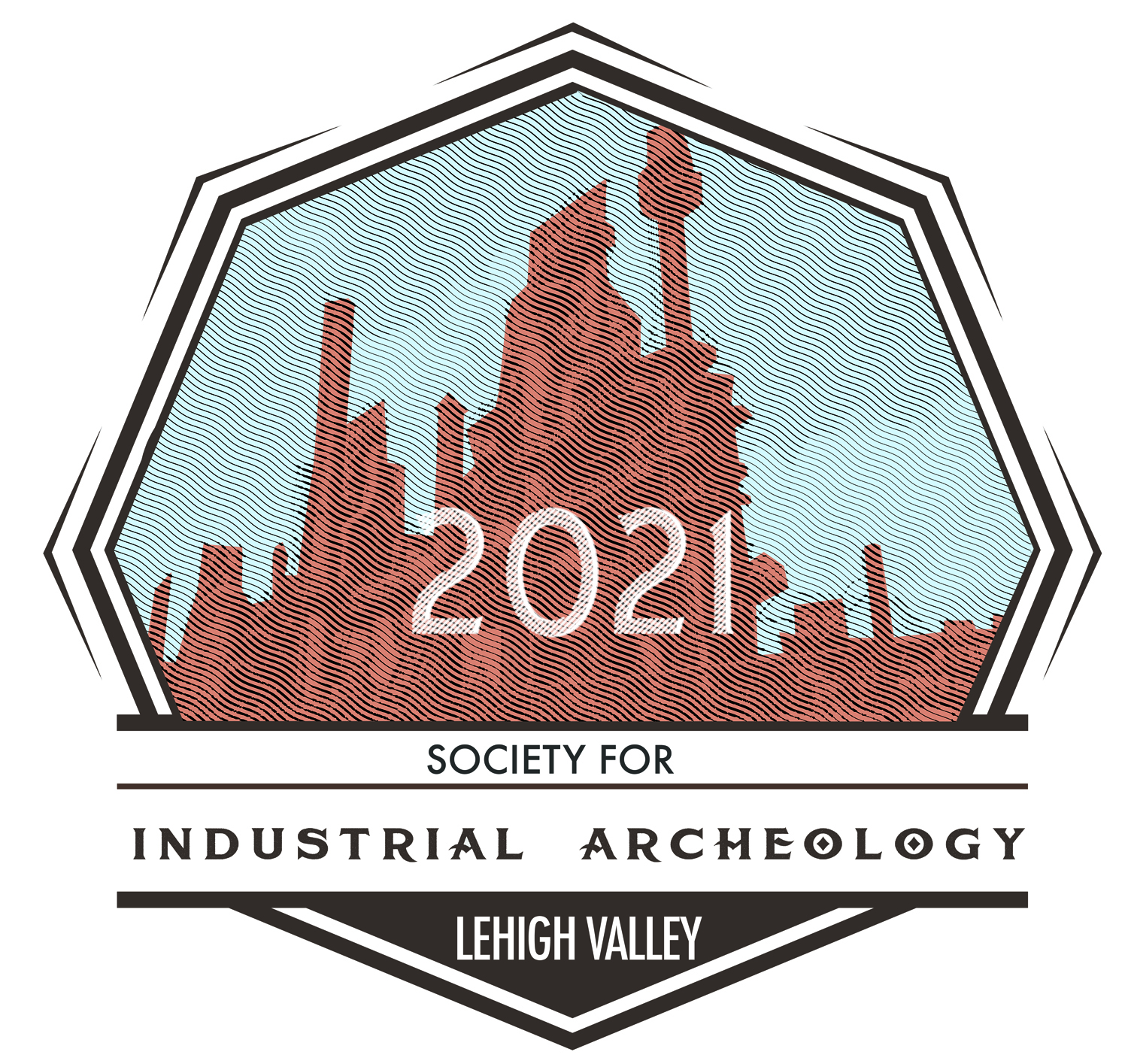 ---
Conference Home  •  PRESENTATIONS SCHEDULE  •  SIA Covid Statement
Tours & Events  •  Registration Information  •  Hotel & Travel
---
Paper presentations at the Society for Industrial Archeology will take place Thursday, August 26 from 8 a.m. to 5:30 p.m. Eastern Time at the Historic Hotel Bethlehem.
PAPERS
8:00 – 9:30 AM
Room A: Builders and Processes
Marty Johnston–"Charles Hunt's Innovations in the Materials Handling Industry"
Kevin Coffee – "Watersheds & Trees: 19th cent. Textile Industry Impacts" (Pre-Recorded)
Paul C. King – "Roebling and Ellet as Engineers in Pennsylvania"
Room B: Digital Strategies for IA
Frank Matero – "Slatelands: Pennsylvania's Slate Belt"
Charles E. Williams – "Census and LiDAR Prospecting for Colliers and Charcoal Hearths" (Pre-Recorded)
Charles Yuill & Stefania Stanscia – "Industrial and Landscape Archaeology in Central Appalachia Coal" (Pre-Recorded)
Lee Maddex – "IA with LiDAR and an 1854 Iron Mining Report in Coopers Rock State Forest, WV"
Room C: Keystone State IA 1
David Blackburn – "Transatlantic Links in Iron Heritage"
Brian Schmult – "Casting Cleaners at Hopewell Furnace"
Paula J. Nasta – "Planks, Post, Paper and Dynamite: Vernacular Wood Construction in Eckley Miner's Village" (Pre-Recorded)
10:00 – 12:00 AM
Room A: Debriefing Wednesday's Process Tours – Panel Discussion
Patrick Harshbarger
Fredric Quivik
Helena Wright
Room B: Heritage Areas and Archaeology
Andrew Anklam – "Lost and Found: Identifying Exploratory Mines Through GIS Reconstructions of Surveyor's Paths" (Pre-Recorded)
Gideon Hoekstra – "Quincy Hill Landscapes: Exploratory Mining and National Guard Encampments" (Pre-Recorded)
Arron Kotlensky – "Pittsburgh Steel: Forging a National Heritage Area from Blast Furnace Ashes"
Room C: Keystone State IA 2
James Stone – "The Electrical System of the Lehigh Coal and Navigation Company"
Trevor Shellhammer – "Bethlehem Steel and Lincoln Tunnel: A Place in Tunnel History"
Jill A. Schennum – "Mexican Steelworkers in Bethlehem, PA"
2:00 – 3:30 PM
Room A: Industrial Production and Interpretation
Jet Lowe – "Making Music at Martin Guitar, Nazareth, PA"
Bierce Riley – "Slater's Mill, Riverdale, NJ: Fur to Disco"
Michael Froio – "From the Main Line: Understanding the Pennsylvania Railroad Through the Contemporary Landscape"
Room B: International Perspectives on Covered Bridge Traditions
Ronald Knapp – "China's Covered Bridges from a Worldwide Perspective"
Terry E. Miller – "America's Covered Bridges: Continuing or Reinventing European Traditions?"
Ronald Knapp – "China's Folk Traditions and 'Corridor Bridges' Langqiao"
Room C: Urban Planning
Harold Aurand Jr. and Cynthia Dravenovich – "Manufacturing Moves Out of the City: A Case Study of an Anthracite Coal Town"
4:00 – 5:30 PM
Room A: Industrial History Consequences
Mark Nonestied – "Its Vast Manufacturing Interest Would Be of Great Aid to the Nation: Middlesex County During the Great War"
Jayashree Shamanna – "Bridging Fiscal Prudence and Profligacy in Failing to Save a Landmark"
Room B: Historic Bridges
Michael J. Cuddy – "Hill – to – Hill Bridge: An Engineering Marvel for Bethlehem's Transportation Needs"
Perry Green – "Aesthetic and Structural Lessons from the Walnut St. Bridge Rehab"
Kathryn Auerbach – "Stone Pillar Bridges: Substructure of Our Country" (Pre-Recorded)
Room C: Keystone State IA 3
Mark W. Connar – "Recreating the President Pumping Engine, Friedensville Mines, Lehigh County, PA"
POSTERS
Daniel Dellosso – "Social Impacts of Industrial Flour Milling in Pioneer Southern Colorado"
Larissa Harris – "Heritage Erasure at Soudan Underground Mine"
Lesley Maia Horowitz – "Infiltration and the Effects to Save Lackawanna Steel's Headquarters"
Claire Marcus – "Railroad Perspectives: Industrial Landscapes in NE Pennsylvania Art"
Tim Maze – "Waste Stream Implications at Camp Au Train"
Kyle Parker – McGynn – "Online Digital Interactive Displays for Industrial Museums"
LouAnn Wurst – "Labor in the Northern Woods"
Note: All schedules are tentative and subject to change.
---