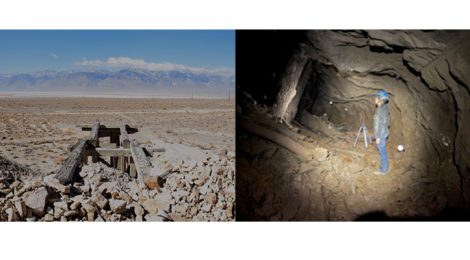 ---
Join the SIA for a series of online talks on topics related to Industrial Archeology.
Upcoming Talks:
Wednesday, February 1 at 8 p.m. Eastern Time (US & Canada)
Dan Quine – "Mock Dolomite: Introducing the Inyo Marble Co"
Dan Trepal – "

Reaching a New Low: Digital Documentation at the 3rd Level, Adventure Mine (1850-1920), Greenland, MI

"
Use this link to register for the talk via Zoom:
https://michigantech.zoom.us/meeting/register/tZMkc-CgqT0uHtFJaL1BOh9AXMFUSL25VTfA
---
CAPTION FOR IMAGES ABOVE (from the upcoming  Session 21)
LEFT: Archaeological remains of the Inyo Marble Company operation near Lone Pine, California.
RIGHT: Examining intact timber structure during documentation fieldwork at the Adventure Mine.
---
Previous IA Online presentations:
Links navigate to videos on the SIA YouTube channel
November 17, 2022 Session
Christopher Romanchock – "The Difficult Birth and Strange Afterlife of the Genesee Valley Canal"
David Rotenstein – "Concrete, Cork and Cold Storage: Documenting Pittsburgh's Federal Cold Storage Company Building"
October 25, 2022 Session
Quentin Skrabec – "The Charcoal Industry in Northern Michigan / Elk Rapids Iron Company"
Vern Mesler – "Shop and Field Riveting and the Historic Record"
March 23, 2022 Session
Sandy Carter – "From Steamboats and Blacksmiths to LiDAR: Willamette Falls Navigation Canal and Locks—1873-2022"
Bob Hadlow – "The Historic Columbia River Highway"
February 22, 2022 Session
Matthew Coolidge of the Center for Land Use Interpretation – "Owens Lake's Industrial History, Interpretation, and Significance"
Nicholas Pinhey – "Developing the City of Whittier Sewage Disposal Plant Case Study using IA Methods"
January 19, 2022 Session
Paul King and Marty Johnston – "Roebling's Monongahela Bridge: History & Motion: A Progress Report"
December 8, 2021 Session
Christopher Romanchock – "Examining the Impact of Agent Orange Manufacture on Niagara Falls, NY"
David Rotenstein – "Wires, Walls, Poles, and Matzoh: Industrial Archeology and Jewish Cultural Landscapes"
November 10, 2021 Session
Steve Walton & Arron Kotlensky – "Where Archaeology and History Collide! The West Point Fondry in IA"
October 20, 2021 Session
David Farrier – "An extant cotton gin from the Albany Agricultural Works"
Jerry Miller – "The North Central Ohio Industrial Museum, Featuring Inventor of More Than 200 Patents Harry F. Smith of Lexington, Ohio"
May 19, 2021 Session
Peter Loockx – "Asbestos, the Stowaway in Many Collections: Industrial Heritage Collections and Asbestos in Belgium"
Patrick Viaene – "Photographers and Experts Engaged in the Preservation Campaign of the Coal Processing Plant of Beringen Mine in Belgium"
April 21, 2021 Session
Paul King – "The Anatomy of a Roebling Bridge"
Laura Zurowski – "Mis.Steps: Our Missed Connections with Pittsburgh's City Steps"
March 10, 2021 Session
Miles Oglethorpe – "Demonstrating the Unique Value of Industrial Heritage"
Mike Nevell – "Digging the Bridgewater Canal: New Fieldwork at the Worsley Terminus, 2013-2019"
February 21, 2021 Session
Marni Blake Walter – "Dawn of the atomic age: The Westinghouse Atom Smasher, Forest Hills, PA"
Bob Stewart – "Frances Benjamin Johnston – A Focus on Her Industrial Photography"
January 20, 2021 Session
Fern Wildman-Schrier – "Marshfield-8 Dam Removal"
December 16, 2020 Session
Francisco Montoya Mar – "La Esperanza candy and chocolate factory. Zacatecas, Mexico"
Kevin Coffee – "Industrial Lowell and the dawn of the Anthropocene"
November 12, 2020 Session
William Roger Price – "Post-industrial working landscapes: Geographies applied and performed"
Amy Walker – "Constructing post-industrial communities: Place, memory, and practice"
Mark Rhodes – "De-romanticizing industrial heritage: Critical geography and memory work "
October 14, 2020 Session
Chuck Williams – "LiDAR Prospection of Relict Charcoal Hearths of the Shippenville Furnace Region, Clarion County, Pennsylvania"
Andrew Anklam – "Locating Ephemeral Mines At Isle Royale National Park By Reconstructing Survey Notes In GIS"
September 23 & 30, 2020 Session
Billy Cancel – "Didcot 'A'"
Jonathan Gardner – "The Industrial Archeology of the Archeology Industry"
Jeff Benjamin in conversation with Ximena Alarcón – "Embodied sonic memories of commuting underground"
Anna Storm – Social Contracts of the Mono-Industrial Town: A proposed typology of a historic phenomenon and contemporary challenge"
Hilary Orange – "Humor in the Industrial Workplace: Laughter in the Dry, Geevor Mine, Cornwall"
August 18, 2020 Session
Iain Stuart – "Sunny Corner and the 'blow hard' Yank"
Tim Tumberg – "Documenting the Gilbert Ore Concentrator"
July 22, 2020 Session
John R. Mullin – "The American Woolen Company and the Creation of the Model Mill Village of Shawsheen"
Patrick Malone – "The First Iron Waterwheel in America"
Bob Stewart – "Chicago's 73rd Street Interlocking Plant"
June 18, 2020 Session
Christopher Marston – "IA on the Trail of Tears: Rediscovering the Nashville Toll Bridge"
David Rotenstein – "Race, Space, and Infrastructure: The Talbot Avenue Bridge"
Lisa Austin, Adam Trott, Janice Cole & Michael Keys – "Erie Viaduct (1938-2019)"
May 20, 2020 Session:
Matthew S. Daley – "Quaint Furniture of Character: The Stickley Brothers Furniture Company of Grand Rapids, Michigan"
Daniel Schneider – "Pictures of Fragments: Interpreting the Remains of the Calumet & Hecla Mill Complex, Lake Linden, Michigan"
David Simmons – "Bridging 120 Miles: The Sherman Family of Bridge Builders from Ohio"