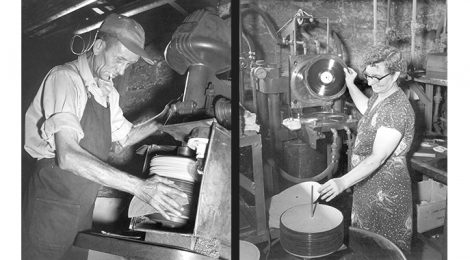 Register Now for the 2017 SIA Fall Tour – Nashville Tennessee
September 14-16, 2017
---
Online Registration is now closed.
You may register for the 2017 Fall Tour in person during the opening reception Thursday, Sept. 14, 6 to 8 PM at the Hotel Preston, Nashville.
---
Caption for above photo: Record finishing, left, and pressing at Bullet Plastics Co., 1952. Courtesy Tennessee State Library and Archives.
---
Founded in 1779, Nashville's location on the Cumberland River gave it importance as an inland shipping port. Before the Civil War, Nashville was a thriving port, and it quickly regained its economic strength following the war. Its economic climate has weathered many changes. It benefited from an economic boom in 1990s, and continues to experience rapid growth and population expansion. These days, Nashville is one of the fastest growing cities in the country.
Nashville is most famous for being the country music capital of America (as well many other genres such as Americana, bluegrass, gospel, and rockabilly),, but it has so much more to offer. The Nashville Predators made it all the way to the Stanley Cup Finals this spring. This year's Fall Tour will explore not only Nashville's music industry, but its manufacturing facilities and public works. Bridges, tunnels, and historic transportation and architecture sites are also featured, as we witness the changing face of a city in transition.
Some of the sites we will visit include Nissan's largest American production facility in nearby Smyrna; the Omohundro Water Works, with its 1929 basilica-style filter building, still in operation; historic Studio B, used by Elvis Presley, the Everly Brothers, and Dolly Parton to record some of their most famous hits; Ocean Way Recording Studios, formerly an RCA facility; Fort Negley, a star fort at the heart of the 1864 Battle of Nashville, the Shelby Pedestrian Bridge; Marathon Village, once the home of the Marathon Automobile Company, and more.
The SIA Fall Tour will be based at the Hotel Preston, conveniently located close to Nashville International Airport. The Hotel Preston is a boutique hotel with an eclectic music-theme decor, and features a pool, bar, and restaurant.
---
Hotel Information
The Hotel Preston, 733 Briley Parkway, Nashville, will be the headquarters for this year's SIA Fall Tour.
Hotel web site: http://www.hotelpreston.com/
Phone: 615.361.5900
Email: info@hotelpreston.com
The conference room rate, based on double occupancy, is $149 per night plus taxes & fees and includes complimentary parking and guest room wi-fi. The rate is offered 3 days pre- and post-conference, depending on availability. The cut-off date for room rates is August 31, 2017 (3 weeks prior to conference).
To book, make your reservations directly with the Hotel's website at:
https://gc.synxis.com/rez.aspx?Hotel=76782&Chain=21650&arrive=9/10/2017&depart=9/20/2017&adult=1&child=0&group=0712154
Please note when selecting room type you will need to click on "view available rooms" on the right. That will show you the room options you are able to reserve.
Or contact the Reservations Department at (866-986-8089).  Please request the Society for Industrial Archeology Group Rate when you make your reservation.
The room block is limited. Please email Julie at siaevents@siahq.org if rooms are sold out, as there may be the opportunity to expand the block.
---
Travel Information
Nashville International Airport (BNA) is served by most large airlines.
The Hotel Preston offers free shuttle service between the airport and hotel. Call 615-361-5900 to arrange for pickup. Note that downtown Nashville is accessible by driving, but not by hotel shuttle. Uber and Lyft offer competitive rates for approximately $10 each way.
---
Schedule at a Glance
Thursday, September 14
Optional Tour

Nissan Vehicle Assembly Plant (cap 40)
Old Hickory Dam and Locks

Opening Reception, Hotel Preston
Friday, September 15
Ocean Way Recording Studio
Fort Negley
Omohundro Water Works
Cumberland Swing Bridge
Shelby Street Bridge
Nashville Toll Bridge Abutments
Dinner on your own
Saturday, September 16
Studio B, historic RCA recording studio
Hatch Print/Country Music Hall of Fame
NC&StL Steam Locomotive No. 576
The Parthenon
Nashville Arcade
Marathon Motor Museum
Closing BBQ Banquet at Marathon Village
Sunday, September 17
Optional – The Hermitage (10 a.m. – approx. 2 p.m.)
---
Additional Information:
---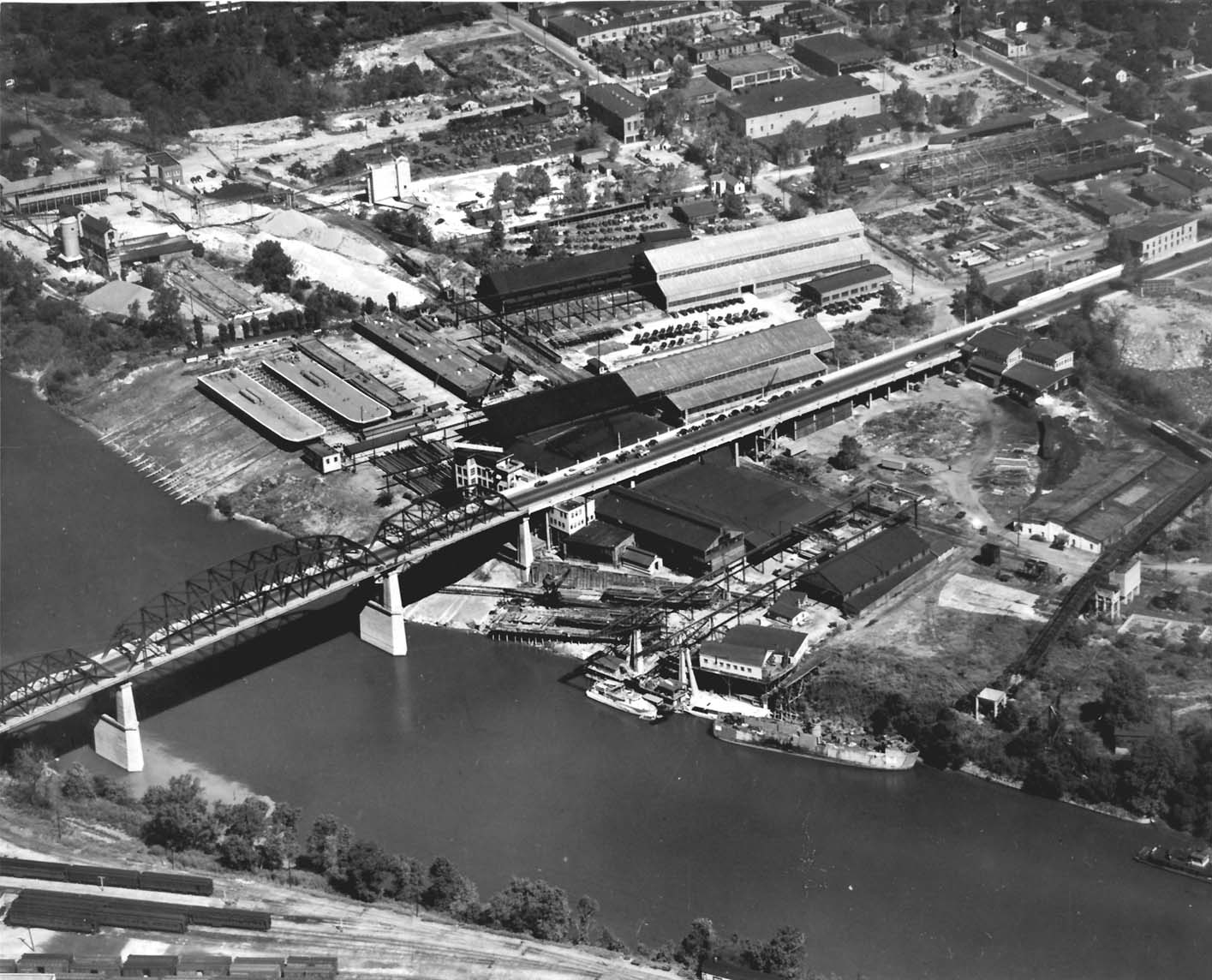 Aerial view of the Nashville Bridge Company on the Cumberland River, 1947. Note newly built barges ready to launch in the upper left corner of the photograph. Courtesy Tennessee State Library and Archives.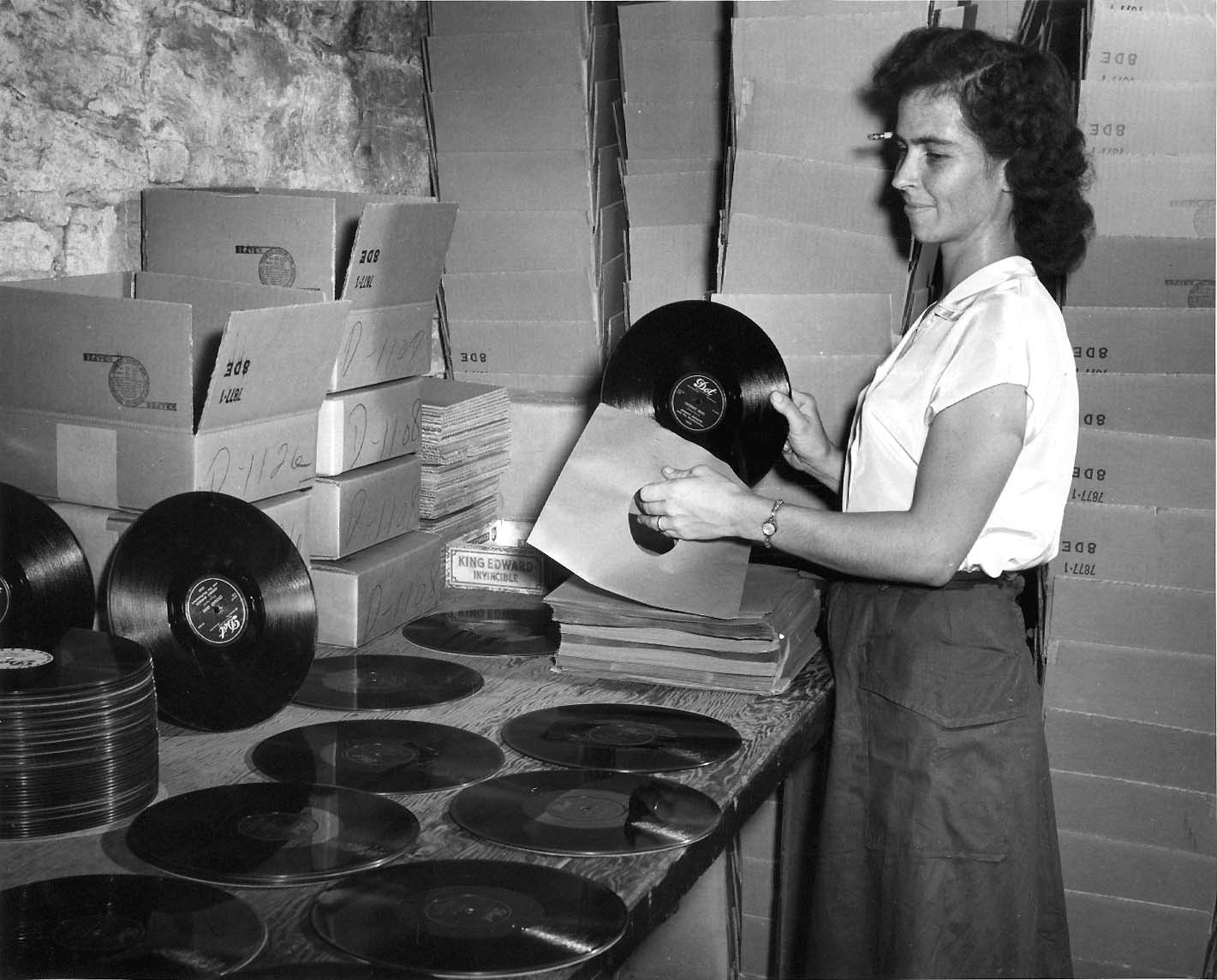 Packaging records at Bullet Plastics Co., 1952. Courtesy Tennessee State Library and Archives.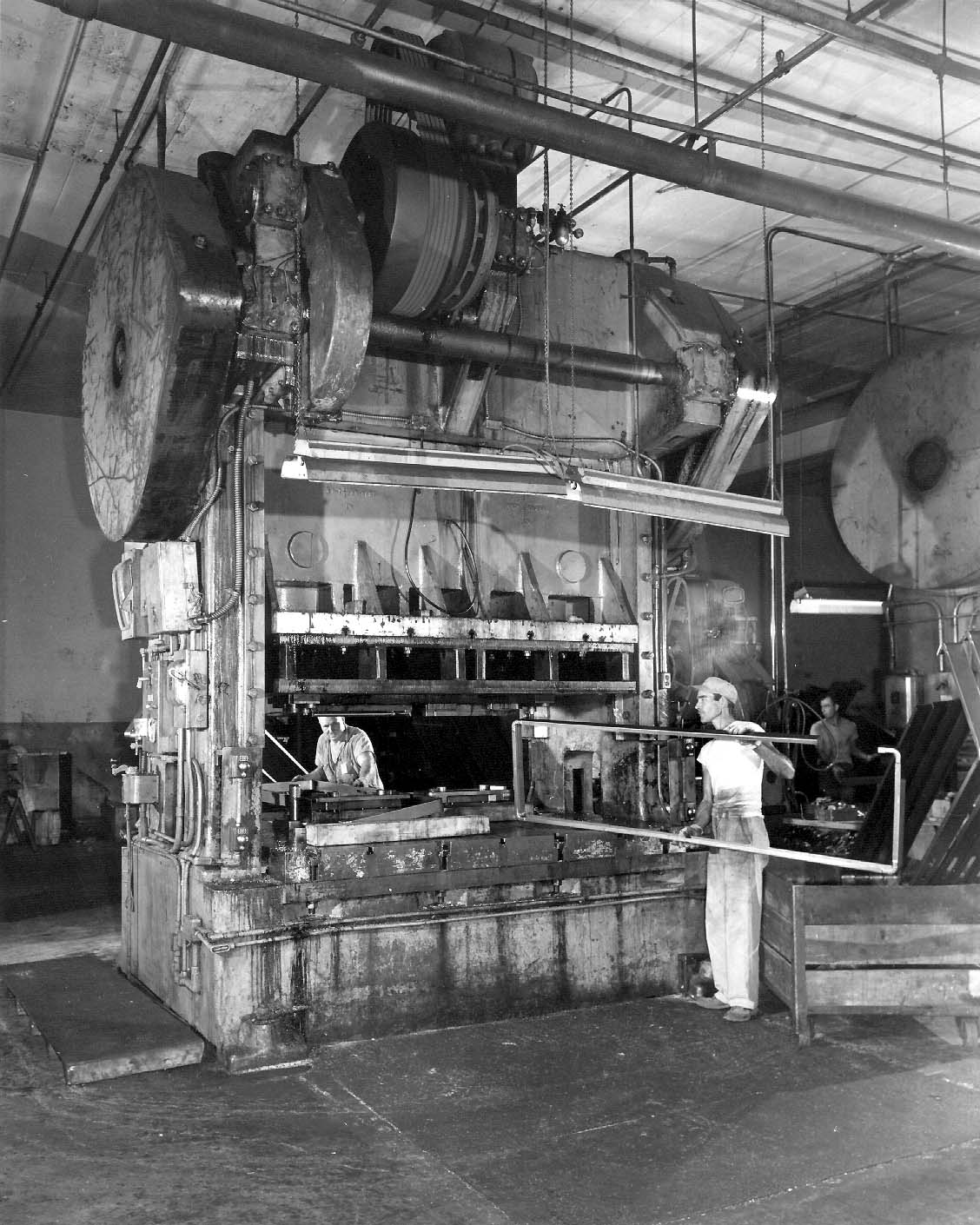 Parts pressing at  Avco Aerostructures, Nashville, 1952. Courtesy Tennessee State Library and Archives.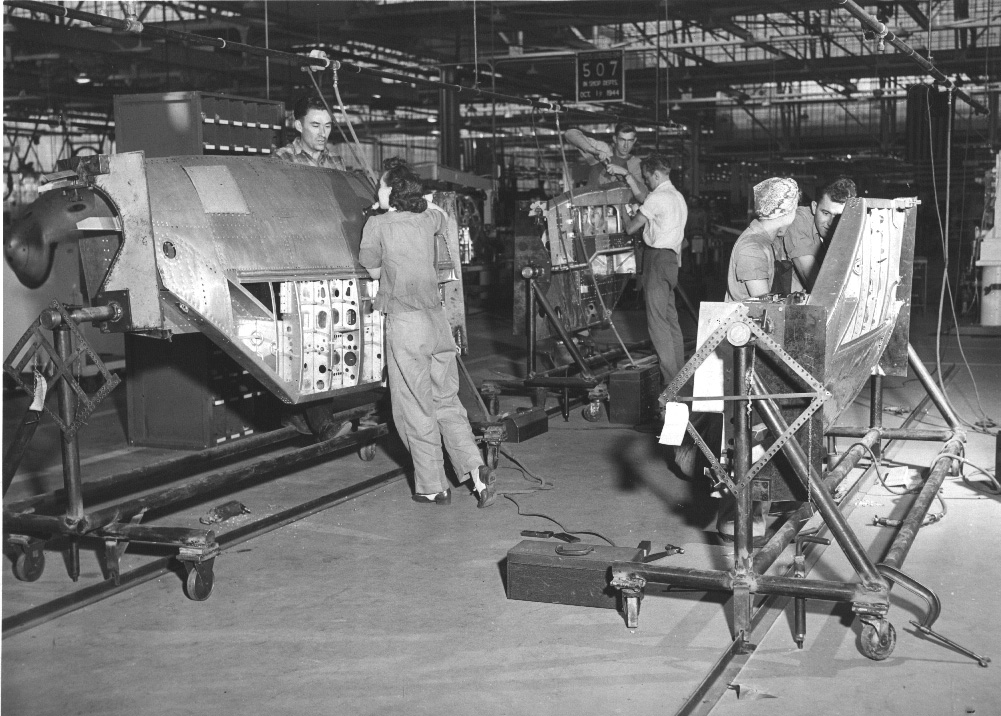 Assembling P-38 Lightnings at Vultee Aircraft Corporation, Nashville, 1941. Courtesy Tennessee State Library and Archives.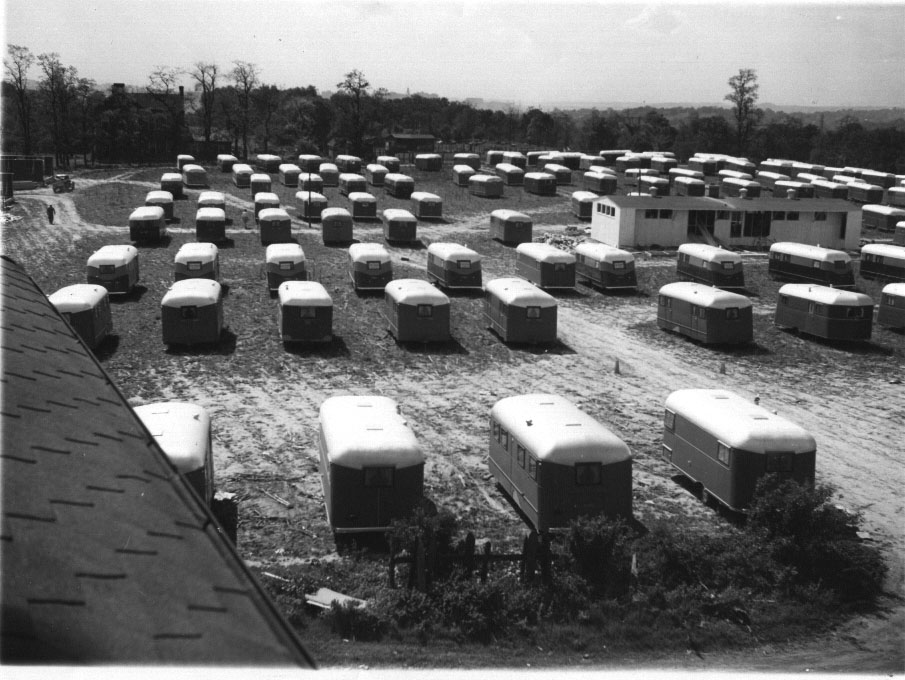 Trailers brought in to house Vultee workers during WWII production, Nashville, 1941. Courtesy Tennessee State Library and Archives.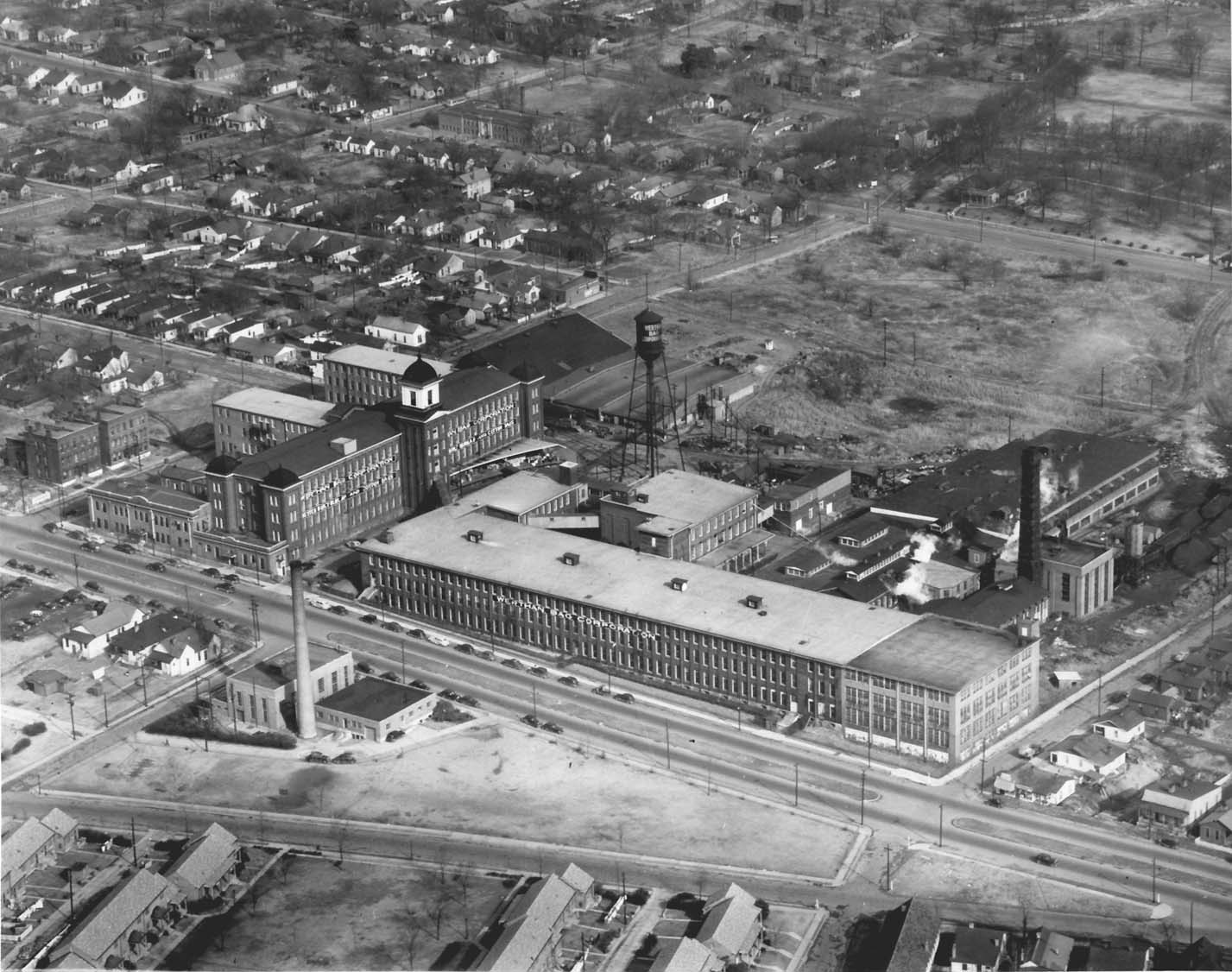 Werthan Bag Corporation's textile mill, Nashville, 1947. Courtesy Tennessee State Library and Archives.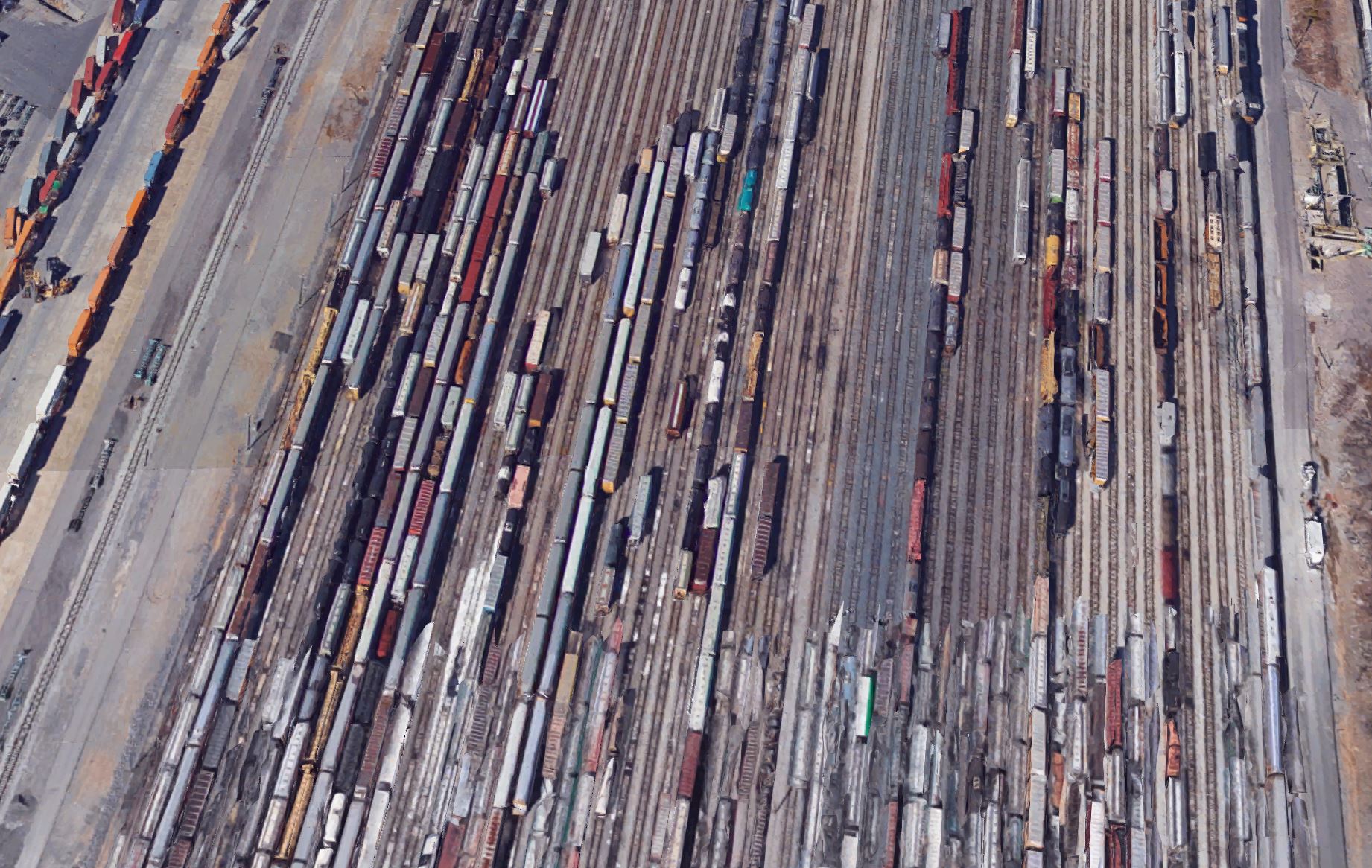 Modern satellite view of CSX train yards, Nashville. Imagery copyright 2017 Google.