The 2016 Society for Industrial Archeology Fall tour explored historic, industrial, and cultural sites in Wisconsin's Fox River Valley. Site tours include a cheese factory, electronics assembly manufacturer Plexus Corporation, a PCB treatment facility, the Vulcan Street hydroelectric station, and a boat tour through the DePere lock. Historic sites include the Hamilton Wood Type and Printing Museum, the Courtney Woolen Mill, a former paper mill, and the Wisconsin Maritime Museum. There will also be an optional two-hour tour of Lambeau Field for Packers fans.
The Fox River Valley extends along the Fox River from Green Bay and DePere in the north to Appleton, Oshkosh, and Kaukauna in the south. The valley was home to Native Americans, and used as a route by fur traders. Locks and dams were built during the mid-19th century to facilitate first wheat mills and later the paper mills for which the region is well known. The concentration of mills and other industry contributed to a high level of pollution. Environmental cleanup is still a huge issue in the area.
Registration
Registration for the 2016 Fall Tour is closed.
Schedule at a Glance
Thursday, October 27
Friday, October 28
Plexus Corporation
Atlas Coffee Mill, a former paper mill
Fox River Boat Tour of DePere Locks
Dinner on your own
Saturday, October 29
Sunday, October 30
Optional Lambeau Field tour
The tour schedule is subject to change with the addition of new tour sites. Stay tuned to this web site for the most up-to-date information.
Travel Information
Getting to Green Bay 
Located at the mouth of the Fox River, at the conjunction of Interstates 41 and 43, Green Bay is the third largest city in Wisconsin. Green Bay's Austin Straubel airport (GRB) is served by American Airlines, Delta Air Lines, and United Airlines. Amtrak offers bus service to Green Bay (GBY) from the Milwaukee station (MKE). Green Bay is 120 miles from Milwaukee, and 275 miles from Chicago.
Conference Hotels
This year's fall tour is based out of two boutique-style hotels in the Harp & Eagle chain.
This hotel and pub in Green Bay offers a variety of guest rooms with an Irish flair. Rooms have in-room whirlpool baths, walk-in rainfall showers and a high-speed internet connection. Continental breakfast is included for guests, served each morning with made-to-order omelets. Bar and restaurant on site.
Rates range from $120 to $150. You will receive a $20 SIA discount per night when you make your reservation by phone at 920-884-8484.
This hotel in DePere  is an award winning en-suite hotel located five miles along the waterfront from St. Brendan's Inn.  Chateau De Pere is constructed on the foundation of a 19th Century mill, and the river still flows beneath a portion of the structure. Breakfast is included with the cost of the room. Bar and restaurant on site.
Rates range from $120 to $170. You will receive a $20 SIA discount per night when you make your reservation by phone at 920-347-0007.
You must book over the phone for either hotel to obtain the SIA discount!
The room block will be held until October 12th.
Contact SIA event coordinator Julie Blair at siaevents@siahq.org for more information.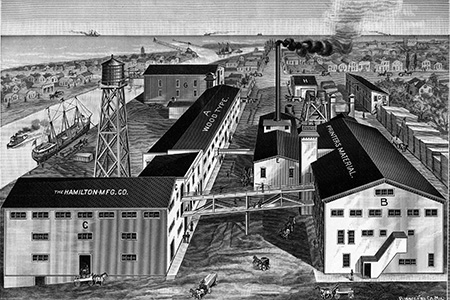 Plate from The Inland Printer showing the Hamilton Mfg. Co. works in Two Rivers, Wisconsin.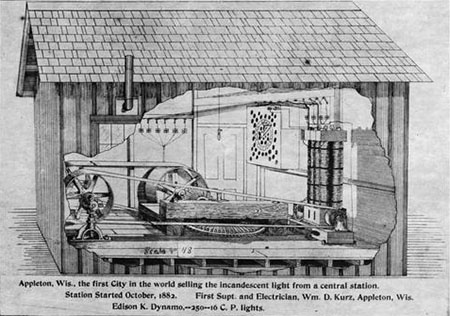 The Vulcan Street electrical plant in Appleton, the first city in the world to sell incandescent light from a central station.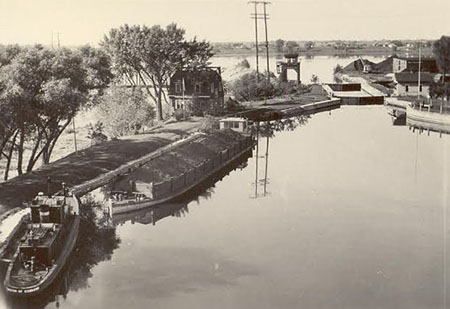 A shipping barge waits to enter the lock at De Pere.