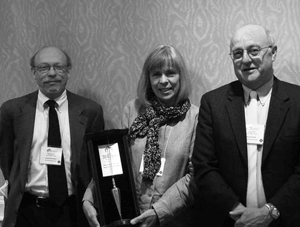 At the SIA's Annual Business Meeting in Pittsburgh, Charles K. Hyde, chair of the General Tools Award Committee, presented this year's award to Carol Poh.
This year's recipient has worked in the field of industrial archeology since the early 1970s, primarily as a historical consultant. Her work has been voluminous and wide-ranging, including more than twenty IA documentation projects done to HABS/HAER standards, nearly two dozen nominations of individual properties and historic districts to the National Register of Historic Places, and more than a score of surveys and inventories of historic properties. Most of her work has involved historic industrial resources in Cleveland, elsewhere in Ohio, and in the Great Lakes region.
Carol Poh has been an enthusiastic and unabashed advocate for the preservation of historic resources. She led the vigorous fight to save Cleveland's Hulett Automatic Ore Unloaders, which the Cleveland Port Authority ultimately demolished in 2000. When it comes to historic preservation, nobody would call Carol a "wallflower." Although academic publications are not a major consideration for the General Tools Award, Carol Poh has authored or coauthored dozens of books and articles on the history of Cleveland industry and other Cleveland institutions. Most notably, she also compiled ASME's History and Heritage Committee's Landmarks in Mechanical Engineering in 1997.
Finally, Carol Poh's service to the SIA has been quite remarkable. A member since the early 1970s, Carol edited the SIAN 1980-1983, and then served as an advisor to the newsletter for another decade. She has served as a director, as president in 2000-2002, and on committees too numerous to list. Carol Poh was also the chief organizer of the SIA's 15th Annual Conference in Cleveland (1986).