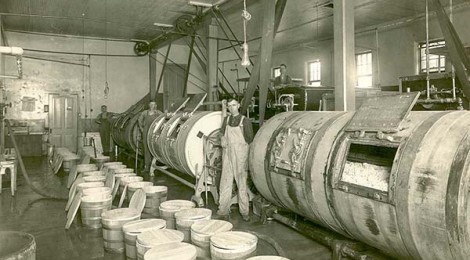 The 2016 Society for Industrial Archeology Fall tour explored historic, industrial, and cultural sites in Wisconsin's Fox River Valley. Site tours include a cheese factory, electronics assembly manufacturer Plexus Corporation, a PCB treatment facility, the Vulcan Street hydroelectric station, and a boat tour through the DePere lock. Historic sites include the Hamilton Wood Type and Printing Museum, the Courtney Woolen Mill, a former paper mill, and the Wisconsin Maritime Museum. There will also be an optional two-hour tour of Lambeau Field for Packers fans.
The Fox River Valley extends along the Fox River from Green Bay and DePere in the north to Appleton, Oshkosh, and Kaukauna in the south. The valley was home to Native Americans, and used as a route by fur traders. Locks and dams were built during the mid-19th century to facilitate first wheat mills and later the paper mills for which the region is well known. The concentration of mills and other industry contributed to a high level of pollution. Environmental cleanup is still a huge issue in the area.
2017 SIA Fall Tour Sites & Venues
Thursday, October 27
Friday, October 28
Plexus Corporation
Atlas Coffee Mill, a former paper mill
Fox River Boat Tour of DePere Locks
Dinner on your own
Saturday, October 29
Sunday, October 30
Optional Lambeau Field tour
---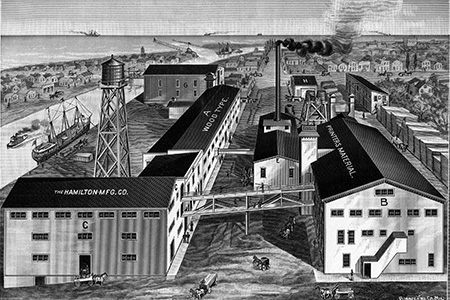 Plate from The Inland Printer showing the Hamilton Mfg. Co. works in Two Rivers, Wisconsin.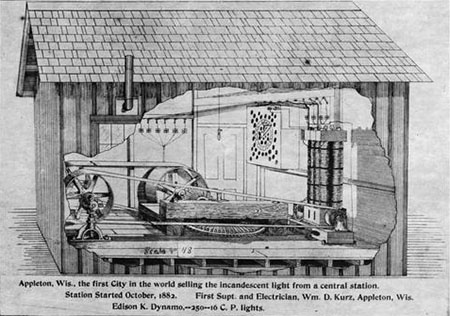 The Vulcan Street electrical plant in Appleton, the first city in the world to sell incandescent light from a central station.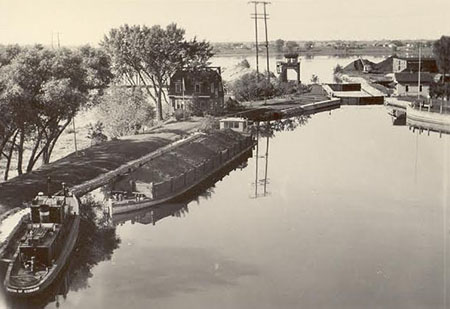 A shipping barge waits to enter the lock at De Pere.