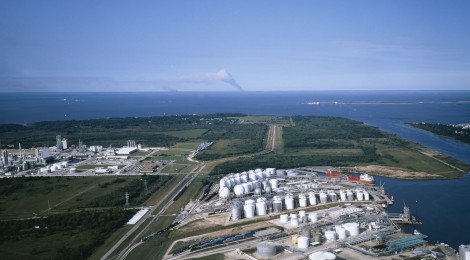 ---
Conference Home  •  Tours & Events  •  Draft Program
Registration Information  •  Hotel & Travel
---
DOWNLOAD PDF OF PRELIMINARY SCHEDULE
---
PLEASE NOTE: Schedules and times given are approximate. Please check emails, the conference website, and your registration packet for updated times, details, and web links.
Thursday, May 18
Evening events at the Houston Marriott Medical Center
6:00-8:00 PM – Opening Reception – Heavy hors d'oeuvres, cash bar, and an orientation to the history of Houston as the Energy Capital of the World.
---
Friday, May 19 Tours
Conference registrants choose one of the following all-day tours (lunch and transportation included)
F1 – The Oil Industry (7:30-4:30) This tour starts in Beaumont to visit the Texas Energy Museum, with exhibits on the development of the Texas oil industry. It including original equipment used at the Spindletop well strike in 1901. We'll also see the Spindletop Gladys City Boomtown site in Beaumont, featuring a full-scale replica of the original "Lucas gusher" well derrick, with a simulation of a gusher (using water), located near the site of the original oil well. We'll return to Houston and visit Lockwood International, a manufacturer of valves and valve fittings used in oil field service, and a visit to the Genesis Test Rig at the Schlumberger Sugar Land Technology Center. Note: this tour will involve an approximately 90-minute drive to the Beaumont area before returning to Houston.
F2 – The Houston Ship Channel (8:00-5:00) This tour starts at the Willow Street Pump Station within the University of Houston-Downtown campus, begun in 1902 to enable federal support for the construction of the Houston Ship Channel. Then we'll board the M/V Sam Houston for a ninety-minute narrated tour of the Houston Ship Channel. Next will be a docent-led tour of the State Historic Site Battleship Texas (formerly USS Texas BB-35), a New York-class battleship commissioned in 1914 that saw service in World War I and World War II (providing fire support during the invasion of Normandy in 1944) and is the last remaining World War I-era dreadnought-design battleship afloat. The last stop will be at Intermarine, a  Houston marine logistics and ocean transport provider.
F3 – Work, Water, and Recreation (8:00-5:00) This tour includes stops at Lockwood International, a manufacturer of valves and valve fittings used in oil field service; a visit to the on-going excavations of the Frost Town site, an archaeological data recovery sponsored by the Texas Department of Transportation that is exposing structural features and artifacts of worker's housing, dating from the late 19th and early 20th centuries; the Buffalo Bayou Cistern, a subterranean reservoir, built in 1927 to supply drinking water to Houstonians; the Astrodome, the "8th Wonder of the World," opened in 1965 as the first enclosed stadium in the world; and a visit to Yellow Rose Distilling, Houston's first legal distillery of whiskey, founded in 2010.
F4 – Texas Bridges and Concrete  (7:30-5:00) TXDOT historian Mark Brown leads a tour of the Rainbow Bridge (completed in 1938), a through truss bridge crossing the Neches River south of Beaumont; the Trinity River Bridge on Texas State Highway 3, a three-span of Parker through trusses (1930); in downtown Houston, an abandoned railroad bascule bridge and the Main Street Bridge over Buffalo Bayou (1914); a visit to the Astrodome; and a visit to Flexicore of Texas, a manufacturer of precast and pre-stressed concrete products for use in building and bridge construction. Other bridge sites may be visited as schedule permits.
Friday Evening, May 19
6:30-7:30 PM – Show & Tell (informal presentations on recent projects in industrial archeology and heritage)
7:30-9:30 PM – Seventh Annual SIA Film Festival
---
Saturday, May 20
Daytime events at the Houston Marriott Medical Center
8:30–12:00          Morning Presentation Sessions – Coffee and soft drinks will be available
12:00–2:00           Annual Business Meeting & Luncheon
2:00–5:15              Afternoon Presentation Sessions
All Day                    Exhibits, Posters & Book Sales
Session topics, presentation titles, and a list of speakers may be found at the Draft Saturday Schedule.
---
OPTIONAL ACTIVITIES  
Extra fees apply
Thursday, May 18
THIS TOUR IS FULL T1 – NASA Johnson Space Center and the Port of Galveston (8:30-4:30). This tour includes a tram tour of NASA Johnson Space Center at Clear Lake; a tour of the Tall Ship Elissa, a three-masted, iron-hauled brig built in 1877 in Aberdeen, Scotland, now featured in the Texas Seaport Museum in Galveston; a visit to The Ocean Star Offshore Drilling Rig and Museum in Galveston; and a visit to the Galveston Seawall, begun in 1902 in the aftermath of the Galveston Hurricane of 1900 as a bulwark against future storms.
Saturday Evening, May 20
SB – Saturday Banquet (6:30-9:30) – Dining and beer at Saint Arnold's Brewery, Texas' oldest craft brewery.  Price includes an open bar of Saint Arnold's diverse selection of craft beer. http://www.saintarnold.com/
Sunday, May 21
The start of all three tours can be accessed via Houston's METRORail light rail system
S-1 – Walking tour of Allen's Landing – (9:00-12:30) Docent-led tour of "Houston's Plymouth Rock," the area around which Houston commerce and industry grew in the 1830s, led by the city's founders, Augustus and John Kirby Allen. Includes a tour of turn-of-the century warehouses and the Willow Street Pump Station within the University of Houston-Downtown campus.
S-2 – The Binz – (9:00-12:30) Docent-led walking tour of residential area dating to the 1910s to the 1930s, located along Binz Street on the edge of the nearby Museum District and the Rice University campus. Ideal tour for those interested in learning more about the early development of Houston's picturesque live oak-lined neighborhoods.
THIS TOUR IS FULL S-3 – Boat tour of Buffalo Bayou – (10:00-11:30) Ninety-minute boat tour of Buffalo Bayou, led by Louis Aulbach, a historian of Houston's history, who will focus on the nineteenth and twentieth century industries that lined the bayou. Limit 21 people.