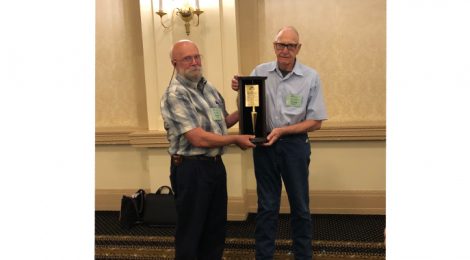 Vern Mesler is the recipient of the 2021 Society for Industrial Archeology General Tools Award. The General Tools Award is the highest honor that the SIA can bestow, recognizing individuals who have given sustained, distinguished service to the cause of industrial archeology.
Vern is a welder and steel fitter who helped build modern highway bridges and who then learned hot riveting and applied his new skill in helping to save historic bridges that were threatened by the new bridges that had been his livelihood. He has made exceptional contributions to IA, specifically for his attention to the care, understanding, maintenance, and restoration of iron and steel bridges.  He has done this by rescuing bridges and re-erecting them in a park dedicated to saving old bridges, by educating and training a new generation in the craftsmanship of hot riveting, and by instilling in professional engineers and the staffs of highway departments an appreciation for the techniques useful in repairing historic metal bridges.  He has accomplished these contributions through workshops sponsored by the National Park Service and at other university, trade, and conference events, and he has furthered that work through his website.
Vern's was first introduced to SIA members at a pre-conference workshop at the 1998 annual meeting in Indianapolis. Organized by Jim Cooper, SIA member and Indiana's leading historic bridge preservationist, the workshop demonstrations focused on hot riveting, heat straightening, and hand forging of steel and iron bridge members. At the center of all this activity was Vern, a straight-talking, good-humored, and extremely knowledgeable individual. He was the first person many participants had ever encountered with a depth of hands-on experience that opened new visions of older iron and steel structures, especially bridges. Patrick Harshbarger recalls that here was someone who appreciated the workmanship of the golden age of structural iron and steel in ways few others could. Over the next two decades Vern has become a leader of a movement aimed at bringing these techniques back into use as approved tools for the authentic restoration of historic metal-truss bridges, a resource rapidly disappearing from the American landscape.
Vern's version of industrial archeology stems from an understanding of technology through hands-on experimentation. And like many SIA members, he came to our field rather late in life. For 34 years, he worked as a welder, fitter, foreman, and materials manager at the Douglass Steel Fabrication Corporation in Lansing, Michigan. Founded in 1952, Douglass Steel has been a leading supplier of steel bridges as well as steel-frame buildings of all kinds. Vern directed welding operations for the fabrication of bridges for Michigan's highways.  During this time, he also joined the Lansing Community College faculty as a welding instructor.
Mesler's emergence onto the historic bridge scene began in 1997, a time when historic metal-truss bridges on Michigan's highway system were threatened, especially those on the rural county roads. It was then that Vern hooked up with the director of the Calhoun County Road Commission, to develop a historic bridge park in which historic metal-truss bridges threatened with demolition could be authentically restored and reused as pedestrian trail bridges.
Vern's odyssey began with the rescue and repair of a 64-foot Pratt pony truss fabricated in 1897 by the Michigan Bridge Co. Anxious to use the proper techniques that duplicated the original technology of this bridge, Vern tracked down two retired ironworkers who had helped build the Mackinac Bridge in the 1950s. They taught him the historical technology of hot riveting, and he adopted a new passion and calling: to educate and train a new generation in this craftsmanship of a by-gone era through annual living history demonstrations of riveting and heat straightening. Vern's first restoration was completed in 1999, and over the next several years, he led projects to preserve and restore four other metal truss bridges. The most ambitious was the Charlotte Highway Bridge, a 176-foot Whipple through truss fabricated in 1886 by the Buckeye Bridge and Iron Works of Cleveland, Ohio. Working on these projects, Vern has developed a keen eye for interesting and often overlooked details, like a punch mark in an eye bar that offers guides to the original press operator of the forge.
In contrast, most modern engineers and contractors have understood little of those techniques and took as undisputed fact that old, broken, bent or corroded structural iron could not be restored, let alone returned to safe use under any circumstances.
Professional organizations were soon taking notice of Vern's efforts. In 2001, the Michigan Section of the American Society of Civil Engineers recognized his work at the Calhoun Park as a Historical Civil Engineering Landmark. In each of 2005 and 2006, the American Public Works Association listed his work in Calhoun County as the public works project of the year.
All the while, Vern was refining his own personal skills as a historic bridge restoration specialist. Mike Mort, author of A Bridge Worth Saving: A Community Guide to Historic Bridge Preservation, observed that Vern's skill, "honed by a lifetime of metal fabrication in industry and the classroom, was nothing less than astonishing." Mort had watched Vern "wield a rivet gun as if it were a sculptor's chisel and [saw] him command a cutting torch as if it were a calligrapher's pen. His knowledge of metal fabrication," Mort continued, "is further complemented by a pure and passionate respect for honoring the craftsmanship of the original creators." Vern asserts that, "No written documentation of a destroyed metal truss bridge can take the place of one's hands and eyes searching for the marks of a craftsman's tools."
In 2008 Vern began a series of workshops using Lansing Community College as an educational site for students, engineers and historic preservationists. The following year he received a grant from the National Park Service to create a two-day workshop at Lansing. The first day consisted of papers and case studies from national experts, followed by a day of hands-on introductions to a full range of restoration processes for historic metal. Four more of these annual "Iron and Steel Preservation Workshops" were held at Lansing through 2013.
Vern has also taken his "show on the road," giving presentations and workshops at conferences, universities and trade groups, including at the 75th anniversary of the Golden Gate Bridge in 2012, and he was featured in a documentary on the bridge. He gave demonstrations of hot riveting to apprentice ironworkers and the San Francisco Maritime Museum.
In addition to his projects at Calhoun County Bridge Park, Vern formed his own company, VJM Metal Craftsman, LLC, to take on more far-ranging bridge projects. He has personally restored other metal trusses in Michigan, Indiana, and Ohio, and has consulted on dozens of other projects. You can learn more about Vern's work and passion for the subject through his website, www.historicbridgerestoration.com, as well as the series of newsletters he's written and edited over the years under the titles of the Craftsman's Newsletter and Iron and Steel Preservation Newsletter.
Indicative of Vern's influence is the growing cadre of contractors who advertise their experience with riveting structural iron and steel on historic bridge projects. These firms and individuals, many trained or influenced by Vern, have become resources for restoration of historic metal-truss bridges. The Ohio Department of Transportation issued statewide Historic Bridge Riveting Guidance in 2015, the first time that a state DOT has issued written instructions explaining the conditions under which it would officially endorse and fund historic bridge projects involving hot riveting.  This endorsement is significant, given the strong taboo against rivets that has prevailed in the engineering profession since the 1950s and 1960s.  While it still is unusual for historic restoration techniques to be used for historic bridges on heavily travelled highways, metal-truss bridges are increasingly restored for use in light service with far more care and respect for the original craftsmanship and materials than just a few decades ago. It's hard to imagine this would have happened without Vern having led the way.
— Adapted from the award citation Fredrick Quivik delivered at the SIA's 2021 Annual Business Meeting, which was held on August 26, 2021
---
CAPTION FOR PHOTO ABOVE: Fred Quivik presents Vern Mesler with the 2021 General Tools Award at the SIA 2021 Annual Meeting