---
CONFERENCE HOME  •  Tours & Events  •  Registration Information
Society for Industrial Archaeology
51st Annual Conference
June 8-11, 2023
Grand Rapids, Michigan
Grand Rapids, Michigan's "Second City" serves as the home for the SIA's 2023 Annual Conference. Historically known as the "Furniture City" and more recently as "Beer City," the city and the wider region features a diverse set of industrial sites. The Grand River Valley and West Michigan emerged during the mid-nineteenth century as a trading and manufacturing center connecting the interior of Michigan from Kalamazoo and Battle Creek in the south, north to Muskegon, east to Lansing, and west to Lake Michigan.
Located on the Grand River, Michigan's longest, the production of household furniture became Grand Rapids' signature industry by the 1880s. Moving to become dominant players, the city's firms created annual Furniture Exhibitions drawing national and international buyers. This secured the city's place as "Furniture City, U.S.A." until the 1930s. Design, printing, metalworking, gypsum mining, and other supporting industries provided the city a diversified economy. Later automobile parts, precision manufacturing, and more specialized furniture production shape the city's economy into the present. A more recent development is a vibrant brewing and distilling industry throughout the region.
The cities along the coast of Lake Michigan further contribute to the manufacturing and shipping activities of the region. This rich maritime culture is readily apparent in cities such as Muskegon, Saugatuck, and South Haven. Inland, pharmaceuticals in Kalamazoo, processed breakfast foods in Battle Creek, and automobile production in Lansing added to the region's industrial base. All of this has contributed to create a rich industrial legacy that the conference will highlight.
Please see bottom of page for details about extended call for papers.
---
Caption for photo at top: Huge piping, attached on one end to a barrel shaped object and on the other to a rectangular object. Installed by Berkey & Gay Company in 1930 to eliminate the dust problem in the neighborhood as described in a news article in the Grand Rapids Herald, January 12, 1930. (Source: Grand Rapids Public Library Digital Collections)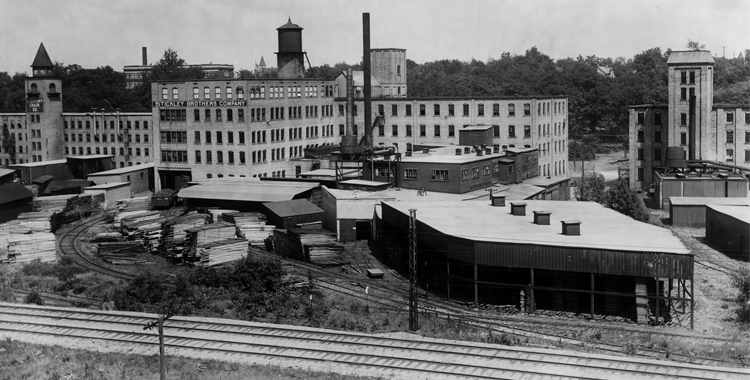 View of the rear of the Stickley Brothers Company factory, showing lumber and railroad tracks. Stickley Brothers was located at 837-861 Godfrey SW, Grand Rapids and was well-known for its Arts and Crafts furniture. The company operated from 1891 until 1954. Photo circa 1918. (Source: Grand Rapids Public Library Digital Collections)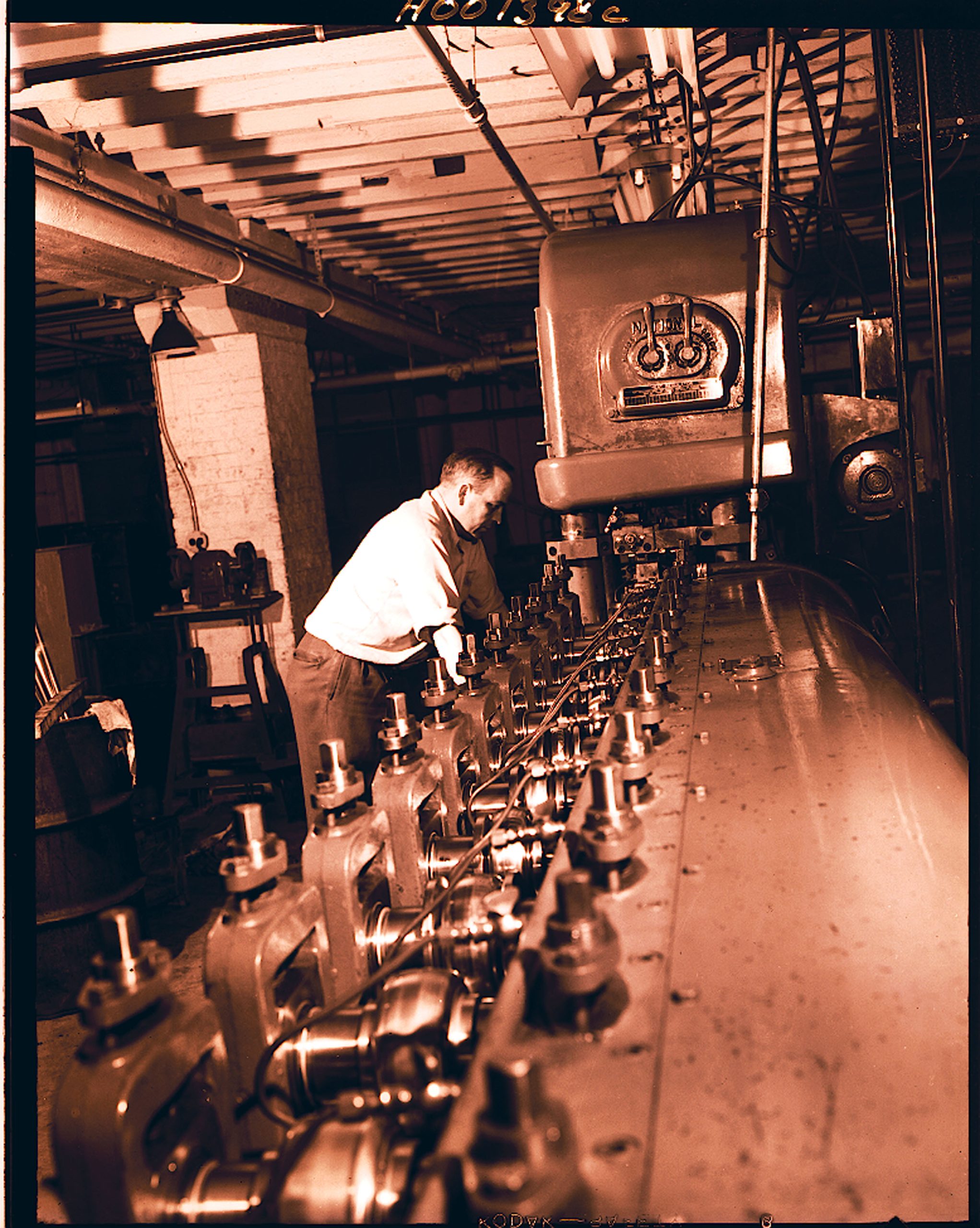 Man watching the assembly line at the Bissell Carpet Sweeper company plant, 1950. (Source: Grand Rapids Public Library Digital Collections)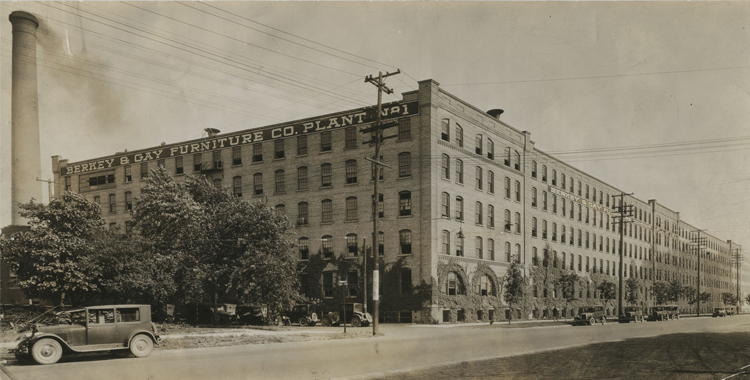 Berkey & Gay Furniture Co. Plant No. 1 with smoke stack at rear left in image.(Source: Grand Rapids Public Library Digital Collections)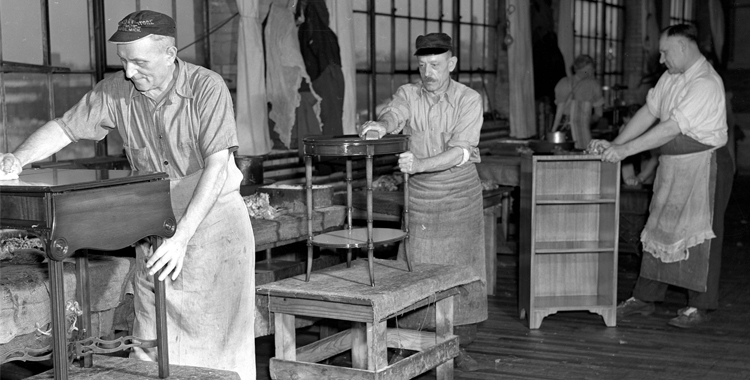 Interior view of the Hekman Furniture Company showing three men finishing pieces of furniture (Source: Grand Rapids Public Library Digital Collections)
---
CALL FOR PAPERS
The deadline for abstract submissions was Feb. 28, 2023, but please contact the paper chair, Patrick Pospisek, if you would still like to participate. 
The Society for Industrial Archeology invites proposals for presentations and poster displays at the 51st Annual Conference in Grand Rapids, Michigan, June 7-11, 2023. The presentation sessions will be held at the conference hotel, the Embassy Suites – Grand Rapids Downtown, on Saturday, June 10, 2023.
We invite presentations on all topics related to industrial archeology, history of technology, social change related to industry, and historic industrial structures and bridges. Papers about regional industries and transportation in Grand Rapids and Western Michigan are particularly encouraged. Poster displays are also encouraged and can be on works in progress or finished projects. All presentations and poster displays should offer both interpretation and synthesis of data.
Presentation Formats: Proposals may be for individual presentations, a session of papers, a roundtable on a theme, or posters. Individual presentations 20 minutes in length, a group of three or four presentations on a common theme filling a 90-minute session, or a 90-minute panel discussion with 2-5 discussants (a formal moderator is optional, but encouraged). SIA will provide computers, data projectors, screens, microphones, and speakers as needed in each presentation room. Posters will be on display all day Saturday with a dedicated time for poster presenters to be present at their posters for discussion.
Proposal Formats: Proposals should be submitted online unless special arrangements have been made. Each proposal must include:
The presentation title (you will indicate the type of presentation—single paper, session proposal, or poster—on the submission form)
A 300-word abstract that outlines the scope, findings, and conclusions of the presentation
Contact information including name, affiliation, email address, mailing address, and telephone number for each presenter
A brief biographical statement of 150 words for each presenter
The software (incl. version) used to create your presentation and any additional audio-visual requests beyond the standard equipment listed above.
Submit proposals using the online submission form here: https://forms.gle/Q8j6QovAhPm2hejM9
For 90-minute themed sessions or panel discussions, the organizer should submit a title and a brief description of the theme, along with all above information together as a group as prompted on the online submission form. If any of these items is missing, the proposal cannot be considered. Note that the above word counts apply separately to each presenter in a group. Note that all speakers are expected to pay the registration fee (for either the full conference or one-day rate). The deadline for proposals is now February 28, 2023. For questions please contact: Patrick Pospisek, SIA Presentations Committee Chair, pospisep@gvsu.edu
Please see our Poster Guidelines (PDF download) for poster preparation parameters.
Follow the link below to submit your proposal. For questions please contact:
Patrick Pospisek, SIA Presentations Committee Chair, pospisep@gvsu.edu