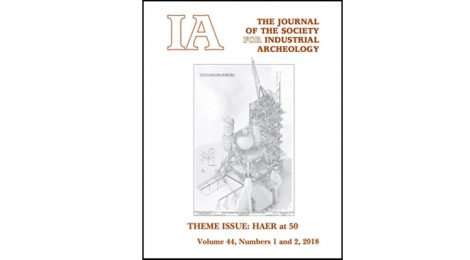 Volume 44, numbers 1 and 2 of IA: The Journal of the Society for Industrial Archeology has been published and distributed to subscribers.
This double-issue has the theme "HAER at 50."
Copies of the issue are available for purchase through the SIA's secure online payment system. Price for current SIA Members is $10 per copy. Price for non-members is $20 per copy. Please add $5 to order total to cover shipping.
---
CONTENTS
"Bridges, Rockets, Cars, and Boats: HAER at 50" Justine Christianson
"HAER Documentation: Embracing Digital Metrology and Its Derivatives" Dana Lockett
"The Education of an Icon: An Interview with Robert M. Vogel" Christopher H. Marston
"HAER MI-2: Unintended Consequences of the Quincy Mine Recording Project" Larry Lankton
"HAER and My Career in Industrial Archeology" Charles K. Hyde
"Peeling Back Layers: Drawing Industrial Sites and Structures for HAER" John R. Bowie
"The Historic American Engineering Record and the Making of a Public Historian" Carol Poh
"Buckeye Reflections on HAER's Legacy" David A. Simmons
"CRM Careers Seeded by HAER Summer Internships" Amy Squitieri and Christina Slattery
"Falling Through the Portals of History" Jet Lowe
"The Historic American Engineering Record and Me: 1980 Until Now" Martin Stupich
---
IA: The Journal of the Society for Industrial Archeology web page