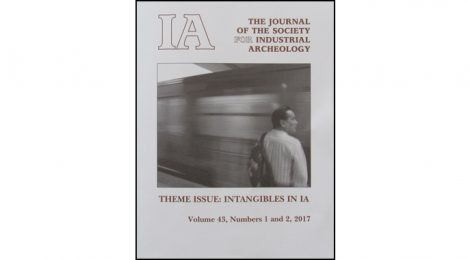 Volume 43, numbers 1 and 2 of IA: The Journal of the Society for Industrial Archeology has been published and distributed to subscribers.
This double-issue has the theme "Intangibles in IA."
Copies of the issue are available for purchase through the SIA's secure online payment system. Price for current SIA Members is $10 per copy. Price for non-members is $20 per copy. Please add $5 to order total to cover shipping.
---
CONTENTS
"Ariadne's Gift: The Archeological Record of Industry" Jeff Benjamin
"The Industrial Archeology of the Archeology Industry" Jonathan Gardner
"Didcot 'A'" Billy Cancel
"Social Contracts of the Mono-Industrial Town: A proposed typology of a historic phenomenon and contemporary challenge" Anna Storm and Tatiana Kasperski
"Programmed Materials: An Archeology of Machinic Responsiblity" Scott W. Schwartz
"Worker Skill in the Industrial Production of Decorative Wood Type Borders" Daniel Schneider
"In Search of the Primus Stove Artist" Bayne Peterson
"Embodied sonic memories of commuting underground" Ximena Alarcón
"Humor in the Industrial Workplace: Laughter in the Dry, Geevor Mine, Cornwall" Hilary Orange
---
IA: The Journal of the Society for Industrial Archeology web page