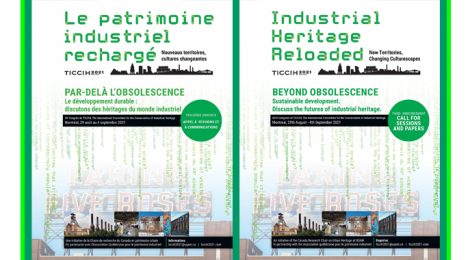 XVIII Congress of TICCIH, Montreal, 29 August – 4 September 2021
The new deadline for the call for sessions is 1 September 2020
The new deadline for the call for papers is 31 October 2020
The Canada Research Chair in Urban Heritage of Université du Québec à Montréal, in collaboration with the Association québécoise pour le patrimoine industriel (Quebec association for industrial heritage) and with the support of Tourisme Montréal, will be hosting the Congress Industrial Heritage Reloaded, in Montreal, from August 29th to September 4th, 2021.
In order to enrich scientific discussions, to promote the discovery of Montreal's urban and cultural environment and its particular challenges in the field of heritage, and to support new partnership in research and training, the five days of the conference include numerous activities of inquiry and dialog in various areas linked to industrial heritage, as architecture, urban planning, gastronomy, music, cinema, etc. Well-known guest speakers will also be heard. Visit ticcih2021.com regularly
for more details.
More than ever, the legacy of industry is at the forefront of current events, across the planet and even beyond. Deindustrialisation, but also the refinement of scientific knowledge and techniques of production are redefining our relationship with the environment and with our history. This legacy is no longer solely made up of obsolete machinery and of "castles of industry": it is the legacy of territories, of knowledge, of social groups, of space stations as much as nuclear facilities and workers' houses, as well as steel complexes, all of which challenge our views and practices. In the face of profound changes in industry and in its social status—both political and economic—industrial heritage raises issues and offers possibilities that go beyond, from this point on, simple conservation. The transmission of knowledge, the inclusion of people and a renewed humanist perspective on sustainable development are among the possibilities of industrial heritage that are now imperative to call into question.