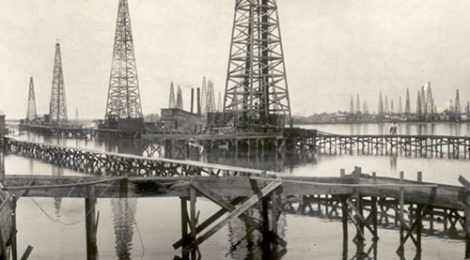 CALL FOR PAPERS – Houston 2017
Call for Papers
The Society for Industrial Archeology invites proposals for presentations and poster displays at the 46th Annual Conference on Saturday, May 20, 2017, in Houston, Texas. Poster displays can be works in progress. Presentations on all topics related to industrial archeology, technology, social change related to industry, and historic industrial structures are welcome. Papers about regional industries and transportation in and around Texas are particularly encouraged. All presentations and poster displays should offer interpretation and synthesis of data.
To submit a presentation proposal, please follow the link below:
Extended Deadline for Proposals is Friday, March 3, 2017.

Caption for photo above: The forest of oil derricks depicted in both halves of a 1919 panoramic photograph above comprise Goose Creek Oil Field. Goose Creek (now Baytown) is a bayou east of Houston where oil was discovered in the late 1910s. Library of Congress.